Modern Family (ABC)
Premiere: Wednesday, Sept. 23, 9 p.m.
Time-Slot Competition: The Beautiful Life, Glee, Law & Order: Special Victims Unit, Criminal Minds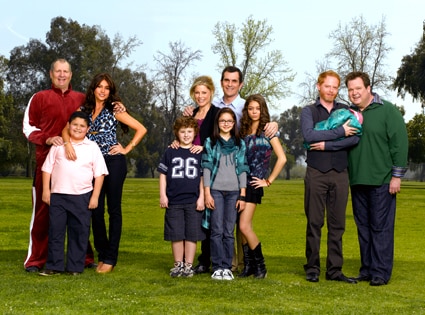 Cast: Julie Bowen, Ed O'Neill, Sofia Vergara, Jesse Tyler Ferguson
Status: We've seen the first episode.
Should you watch Modern Family? Read on...
There is no TV justice if Modern Family doesn't become a hit. Stocked with great actors, an experienced show runner and a genuine point of view, Modern Family is one of the best new shows of the season.
The modern family consists of three main branches, all equally funny. Ed O'Neill plays Jay, the family patriarch, who's settled down with a vivacious second wife (bombshell Sofia Vergara) and her son from another relationship. Jay's supposed to be enjoying his dotage but instead he's disciplining someone else's brat. Meanwhile, Ed has two grown kids (played by Jesse Tyler Ferguson and Julie Bowen) from his first marriage, and those kids have families of their own. Ferguson's character, Mitchell, and his partner, Cameron (talented newcomer Eric Stonestreet), just adopted a baby girl from China, and Bowen's Claire has a traditional family: one silly husband and two rebellious teenage kids.
The show, which is shot mockumentary-style like The Office (but with a brighter and more optimistic palette), focuses on the funny moments of family life that shape us. A highlight from the pilot is Claire and Mr. Claire working out how to administer their son's punishment for shooting someone with a BB gun. The punishment is that Mr. Claire has to then shoot the kid, and yet they can't fit this into the cramped family schedule, and OK, that sounds just plain silly in summary, but the writing and collective comic timing of the actors just rock it. We heart Modern Family, and it's already a season pass on our DVR.
Verdict: Watch
Source: