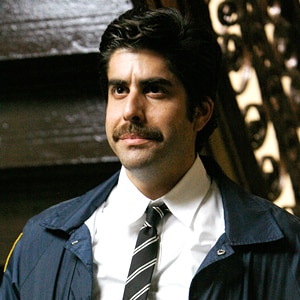 Get Adam Goldberg on the phone from his Los Angeles home to talk about his new show, The Unusuals, and the first thing you'll hear is, "Sorry, one second--it's like a Dr. Doolittle over here with these three dogs and this cat. Oh, and I've got a friend passed out on the couch. It's like a melee over here."
[Cheesy voice-over] Adam Goldberg's life is unusual both onscreen and off! At his house, it's like a melee and maybe a menagerie, too, and on TV, he has brain cancer!
Thanks for writing my story for me, Adam Goldberg!
"Embellish the rest and misquote me. It wouldn't be the first time. Actually, I would prefer if you would misquote me in an effort to make me sound more articulate."
Want more Goldbergian goodies, only a little embellished? Yeah, you do, because he's awesome. Come on down...
E!Online: Adam Goldberg Is One of The Unusuals
Photo courtesy of eonline.com