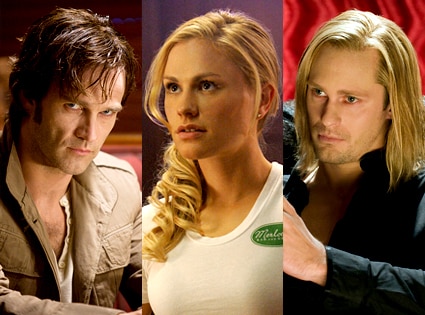 Despite the fact that True Blood stars Anna Paquin and Stephen Moyer are a rock-solid twosome in real life, the Bill-Sookie-Eric triangle was the question of the hour as the cast and producers of HBO's vampire drama hit the Paley Center for Media's 25th Annual TV Festival Monday night.
Happily, Blood boss Alan Ball and his stars, including Paquin and Alexander Skarsgard, dished to us exclusively on the red carpet about the Viking vampire getting a hot spotlight, who's getting a serious beatdown, and who's playing with the new supernatural creatures.
Moyer even told us his real feelings about that other man... Get E!Online's exclusive interview goodies and a sneaky peek of season two of HBO's True Blood.
True Blood Lust: Who's Fanging Who in Season 2?
Photo courtesy of eonline.com