Good news for fans still reeling from NBC ousting Glee from the Thanksgiving Day Parade: Fox may be bringing Glee to you.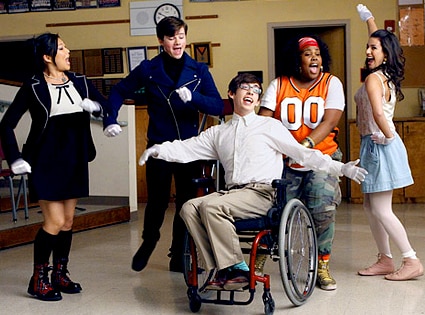 Sources confirm that although it's in the very preliminary stages, Glee cocreator Ryan Murphy and his unhateable cast are setting their sights on a live tour sometime next year.
"The studio and Ryan have said all along that if the show takes off, there will be tours," says one insider. And although the ratings are not necessarily blockbuster (yet holding strong, with about 7 million viewers), the show's dominance on iTunes and the Billboard charts (filling up four slots this week) have not gone unnoticed by Fox head Kevin Reilly...
"We've had a tremendous amount of enthusiasm from our music partners," Reilly told EW. "Certainly if these kids become stars in their own right, who knows? Live appearances. Albums. There's lots of things that could happen."
Ryan Murphy said that the tour would most likely be scheduled around spring 2010, after production has wrapped on the first season.
So although you won't see the Glee cast on the telly on Thanksgiving Day (unless Fox counterprograms NBC's Macy's Parade with a Glee marathon, which would be delicious), you could very well see them live in your own town.
How's that for a bedazzled silver lining?
See you in line...
Source:
E!Online - Glee Tour: We Don't Need No Stinkin' Macy's Float!