The geometric lingo being thrown around by the kids on everyone's favorite hour of musical goodness is getting way too confusing.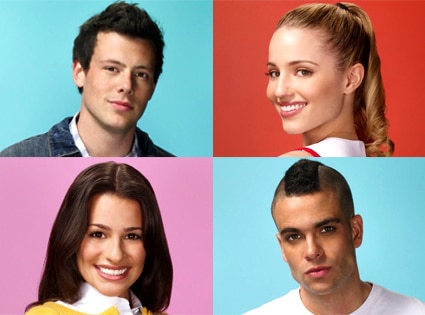 In our recent conversations with the cast, Lea Michele and Dianna Agron (real-life BFFs) mentioned a love triangle, Cory Monteith called it a love square and Chris Colfer introduced the love pentagon! While we eagerly await the love parallelogram, we're enjoying the ride--and the refresher course on shapes--and getting down to the nitty-gritty on who's lovin' who on Glee:
Finn Loves Rachel & Quinn? Cory seems to think so. And while he's doing the honorable thing by staying with his fake "baby mama" Quinn for now, he tells us: "Finn is not only strangely attracted to Rachel, but he respects what she chases after in her life. He's walking a thin line and trying to be somebody for everybody, and she's an example of someone truly following her dreams and that's attractive." Aww, true love. So will they get together when the time is finally right? "That might be the way it plays out," an ominous Cory says. "There's a very active love triangle between Quinn, Finn and Rachel throughout the whole 13 [episodes], which will become a love square," explains Lea, "and some shocking things happen." Such as? "We have some good bitch fights," Dianna and Lea promise. And not that we don't love Finn, but we can't quite figure out his angle in all of this. "When the love triangle becomes a square it's going to be scandalous, and my character is none the wiser because he's aloof," Corey teased.
What about Puck and the rest of the gang?
Puck Loves Quinn? "My character really cares about Quinn, not so much Finn," Mark Salling tells us. "I think we are going to fight for her." After Puck outed the pregnancy in last night's ep, we're guessing he took two steps back in securing his future with his actual baby mama.
Puck Loves...Teacher? "Maybe, possibly," Mark teased. And Cory took the high road, saying, "I can't confirm nor deny that," when asked about Puck's older ladyloves. Although he did get some from our favorite lady ever last night, Kristin Chenoweth.
Kurt Loves...Everyone? At this point, we're all pretty sure of Kurt's love of Finn, but is that actually going anywhere? "There's a love pentagon in the show and I'm a part of it," Chris tells us. Hmm, Rachel plus Finn plus Quinn plus Puck plus Kurt? We shall see!
What About the Baby? The lies and baby-snatching ploys continue for the time being, but Cory spilled this: "I do find out that it's not mine, but it's not for a while." Will Quinn "lose" the baby and give it to Jessalyn Gilsig's Terri? "I don't even know!" swore Dianna (although we're not sure we buy it).
So there you have it. Just a few of the shapely pairings that can be seen on your weekly installment of Glee, and that's not even mentioning the Will/Terri/Emma fiasco.
Don't miss Glee on Wednesday nights at 9 p.m. on Fox.
Source:
E!Online - Glee's Shining Stars Explain Those Love Triangles, Squares & Pentagons