The Middle (ABC)
Premiere: Wednesday, Sept. 30, 8:30-9 p.m.
Competition: America's Next Top Model, So You Think You Can Dance, Mercy, Gary Unmarried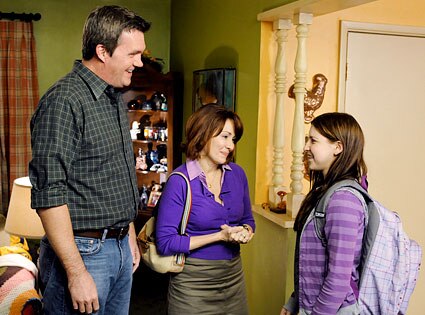 Cast: Patricia Heaton, Neil Flynn, Chris Kattan
Status: We've seen the first episode.
Should you watch The Middle? Read on...
The Middle is a modern-day Malcolm in the Middle, if you will--it even shares the same surname as its predecessor. Unfortunately, the tiny amount of charm MITM contained for the first season or so is completely lacking in this Patricia Heaton-Neil Flynn sitcom. The main difference is that The Middle is told through Patricia's lackluster voice-over.
"There should always be a show on about the American family in whatever form," Heaton told us during TCAs. "I don't think this has been explored from the mom's point of view." Really?
The premiere finds Patricia stranded in the middle of endless cornfields, dressed up in a superhero costume. Need we say more?
Neil's character, Mike, sums up the high point of the series while describing the kids: "Brick is weird; Sue has no recognizable talent; Axle's flushing his future down the toilet--all kids are screwed up."
Unfortunately, The Middle left us missing the days of a no-name Scrubs janitor and Everybody Loves Raymond's sassy, sweet Debra Barone.
Verdict: Pass
Source: