Paranormal Activity has gone where The Blair Witch Project didn't: to No. 1.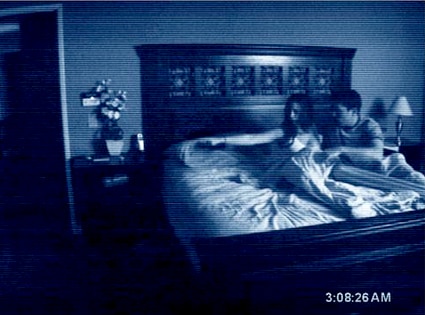 The bedroom-bound chiller won the box-office battle of the R-rated horror movies over Saw VI, and, in its fifth weekend, led the the weekend competition with an estimated $22 million Friday-Sunday take.
In second place, the debuting Saw VI ($14.8 million) was the smallest Saw yet, but still relatively big--a phrase that could not be used to describe two other new releases, Astro Boy ($7 million) and Cirque du Freak: The Vampire's Assistant ($6.3 million).
Time to drill down into the rankings--and try to find Hilary Swank's missing-in-action Amelia:
* For weeks we've been saying Paranormal Activity cost $11,000 to make, but now we're seeing it may have been produced for as much little as $15,000. Either way, a $62.5 million box-office run (and counting) is phenomenal.
* Paranormal's microbudget is what, among other things, invites comparisons to Blair Witch. The $60,000 Blair Witch broke faster and bigger than Paranormal, scoring its biggest gross in its third weekend ($29.2 million--in 1999 dollars, mind you), and breaking $100 million in its fifth weekend. Still, in the box-office standings, Blair Witch never rose higher than No. 2, being denied the prize in consecutive weekends by Runaway Bride and The Sixth Sense, per Box Office Mojo stats.
* Paranormal scored its big weekend win despite playing in nearly 1,100 fewer theaters than Saw VI. The movie, in fact, played on fewer screens than any movie in the Top 10.
* The Saw franchise hasn't seen a sub-$30 million opening weekend since Jigsaw's big-screen debut back in 2004. Still, the Saw sequels are Hollywood-cheap, and Saw VI has already cleared its $10 million or so budget.
* The $40 million Astro Boy played in a lot of theaters (3,000-plus). Not that you could tell from the animated adventure's sixth-place debut.
* The $40 million Cirque Du Freak played in a lot of theaters, too (3,000-plus). Plus, it had vampires. Not that you could tell any of that from the fantasy's eigth-place debut.
* Amelia sold more tickets, theater for theater, than Astro Boy or Cirque Du Freak. But the Amelia Earhart biopic bombed just the same--a $4 million, 11th-place opening for yet another $40 million movie.
* Last weekend's No. 1 film, Where the Wild Things Are, didn't nosedive as might have been feared, but it didn't exactly hold up, either. Ticket sales were down 56 percent, to $14.4 million (third place).
* In limited release, the frazzled Uma Thurman comedy, Motherhood, didn't register: $57,744 at 48 theaters.
Here's a look at the weekend's top-grossing films based on Friday-Sunday estimates as compiled by Exhibitor Relations:
1. Paranormal Activity, $22 million
2. Saw VI, $14.8 million
3. Where the Wild Things Are, $14.4 million
4. Law Abiding Citizen, $12.7 million
5. Couples Retreat, $11.1 million
6. Astro Boy, $7 million
7. The Stepfather, $6.5 million
8. Cirque du Freak: The Vampire's Assistant, $6.3 million
9. Cloudy With a Chance of Meatballs, $5.6 million
10. Zombieland, $4.3 million
Source: