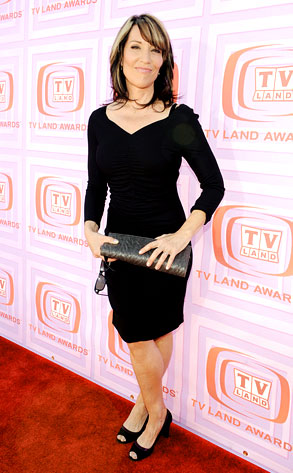 Our favorite leather-clad badasses from Sons of Anarchy are back with new episodes, new guest stars and new troublemaking this September. The FX show begins shooting its second season April 27.
We caught up with show star Katey Sagal and her husband and show creator, Kurt Sutter, at the TV Land Awards this weekend to find out what's in store for the motorcycle gang of Charming, Calif.
"This season is going to be about all the internal conflicts that happen at the club," Sutter tells us. "And I think the club is going to become its own worst enemy. We're still figuring it out, and we're still doing some casting."
One special guest who has been cast is rocker Henry Rollins who, Kurt says, "Is going to play this hard-boiled Aryan guy who is somewhat reformed, and his boss is still being cast. We'll have some news on that in a week or two. "
As for Katey's character, she says she's happy playing a tougher role: "I like her pretty mean. She doesn't really think she's mean. Her intention is to protect, but she's pretty mean."
Are you excited for Sons of Anarchy's return? Isn't Henry Rollins genius casting for this show?
Source: