Vince Vaughn was money. Paranormal Activity was phenomenal.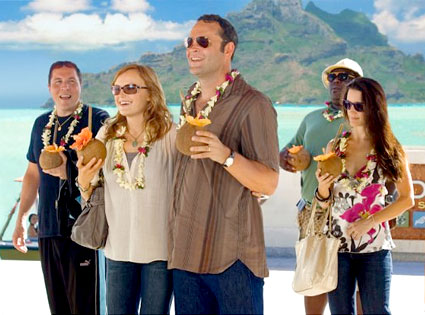 Vaughn's Couples Retreat banked the year's biggest opening for a romantic comedy, with a much-bigger-than-expected $35.3 million, No. 1 Friday-Sunday debut.
Paranormal Activity, meanwhile, packed its theaters, rising all the way to fifth place with a scary-good take of $7.1 million, a mere 645 times the horror flick's micro-budget.
Here's a rundown of more results from a weekend that was great for Hollywood--but a disaster for yet another High School Musical alum:
* Going into the weekend, conventional wisdom said Couples Retreat would gross in the $20 millions, maybe top out at $30 million. It ended up opening bigger than Vaughn's last hit, Four Christmases, and bigger than any of his comedies, save The Break-Up.
* Couples Retreat succeeded with the help of 3,000 screens, and a reputed $70 million budget, the better to catpure life at an exotic vacation resort. Paranormal Activity succeeded on the "strength" of 159 theaters, and a $11,000 budget, the better (or lower) to invite comparisons to The Blair Witch Project.
* This was Paranormal Activity's third weekend in release, but its first to see the light of day, literally. Previously, the movie played at midnight times only. To date, the flick's grossed $8.3 million.
* Corbin Bleu, HSM classmates Ashley Tisdale (Aliens in the Attic) and Vanessa Hudgens (Bandslam) feel your pain. Bleu's motocross movie Free Style averaged only $405 at each of its lonely locations, for a $105,705 "gross." Or, to put another perspective on it, Free Style played at 100 more theaters than Paranormal Activity—and made made $7 million less.
* Zombieland's fall to No. 2 wasn't very far. Last weekend's champ stayed strong with another $15 million. The $23.6 million zombie comedy's now taken in $47.8 million.
* Cloudy With a Chance of Meatballs (third place, $12 million; $96.3 million overall) continues to confound. Considering its $100 million budget, the CGI family film arguably hasn't had a great weekend. Then again, it definitely hasn't had a bad weekend, either.
* Drew Barrymore's Whip It! (eighth place, $2.8 million; $8.8 million overall) has now pretty much had two not-good weekends.
* Two star's anti-star movies dropped out of the Top 10: Matt Damon's The Informant! ($2.2 million; $29.9 million overall); and, Jennifer Aniston's Love Happens ($1.4 million; $21.2 million overall). The takes look low, but then so did the movies' respective budgets.
* "It" girl Carey Mulligan fed the buzz machine with a buzz-worthy debut for the coming-of-age 1960s drama An Education ($162,381 at four theaters), which was the biggest little movie of the weekend after Paranormal Activity.
* Chris Rock's documentary Good Hair ($1 million at 186 theaters) had a good debut, lawsuit challenge or no.
Here's a look at the weekend's top-grossing films based on Friday-Sunday estimates as compiled by Exhibitor Relations:
1. Couples Retreat, $35.3 million
2. Zombieland, $15 million
3. Cloudy With a Chance of Meatballs, $12 million
4. Toy Story/Toy Story 2, $7.7 million
5. Paranormal Activity, $7.1 million
6. Surrogates, $4.1 million
7. The Invention of Lying, $3.4 million
8. Whip It, $2.8 million
9. Capitalism: A Love Story, $2.7 million
10. Fame, $2.6 million
Source: