Yes, vampires are hot. But zombies are not exactly dead.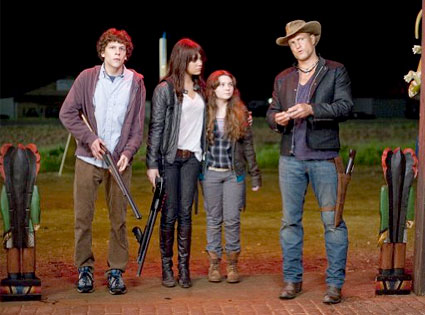 The zombie comedy Zombieland had a nifty box-office weekend, topping all films--and its budget, with an estimated $25 million Friday-Sunday.
Drew Barrymore's Whip It!, the star's directing debut on roller-derby wheels, got lost in the pack, opening in sixth place with $4.9 million, while the Toy Story franchise's comeback clicked, grossing $12.5 million for its 3D double-feature bill.
More zombie-versus-vampire findings, plus the skinny on the Coen Brothers' latest:
* Zombieland opened bigger than any Resident Evil flick, and bigger, actually, than any zombie movie ever, save the 2004 Dawn of the Dead remake, per Box Office Mojo stats.
* Zombies still have a long way to go before they catch vampires. Five vampire flicks have opened bigger than the biggest zombie flick, including the reigning bloodsucking champ, Twilight.
* Zombies still have a long way to go before they get top billing. Sony exec Rory Bruer described his studio's Zombieland as an "action-comedy-buddy-road-trip film," with the emphasis on the comedy, and not so much on the undead. "Quite frankly," Bruer told E! News today, "we knew that we had a really funny movie, and that is the primary thing of the film."
* Zombieland reputedly cost $23.6 million to produce, so it's good.
* Whip It reputedly cost $10 million, so it's not terrible. Still, its per-screen average was weak, and doesn't bode well for future laps around the rink for Barrymore, Ellen Page and crew.
* Joel and Ethan Coen's A Serious Man, was, multiplex for multiplex, the weekend's biggest movie, grossing $251,510 at just six theaters.
* It's hard to see where A Serious Man stacks up against the Coens' previous movies. In terms of theaters, this was their smallest opening ever.
* The Toy Story special, featuring movies No. 1 and 2, was the hottest ticket in the Top 10 after Zombieland.
* Or maybe Cloudy With a Chance of Meatballs ($16.7 million) was. The CGI comedy, which lost a chunk of its 3D screens (and its 3D ticket prices) to Toy Story, held very well, even as its two-weekend hold on No. 1 slipped.
* Ricky Gervais still isn't what you'd call box office, but The Invention of Lying ($7.4 million) did mark an improvement over his last big-screen comedy, Ghost Town.
* Bruce Willis' Surrogates ($7.3 million) looked even more done than it did last weekend. So far, the $80 million sci-fi film has grossed $26.4 million.
* Michael Moore's Capitalism: A Love Story ($4.9 million) broke wide, and broke into the Top 10.
* Paranormal Activity, the little horror movie that might, took some more baby steps, breaking into the Top 20, with $535,000, Box Office Mojo reported.
* Top 10 evictees include: Inglourious Basterds, which lasted six weekends, grossed $116.9 million, per Box Office Mojo, and became Quentin Tarantino's top-grossing movie, and, Jennifer's Body, which lasted two weekends, grossed $14.7 million and didn't become anybody's box-office highlight.
* Tyler Perry's I Can Do Bad All By Myself's Top 10 run ended after just three weekends, a pretty fast slide for a former No. 1. Overall, the movie, which grossed $48.4 million, was on the low end for a Perry movie featuring (albeit not all that prominently) his signature Madea character.
Here's a look at the weekend's top-grossing films based on Friday-Sunday estimates as compiled by Exhibitor Relations:
1. Zombieland, $25 million
2. Cloudy with a Chance of Meatballs, $16.7 million
3. Toy Story: 3D Double Feature, $12.5 million
4. The Invention of Lying, $7.4 million
5. Surrogates, $7.3 million
6. Whip It!, $4.9 million (tie)
6. Capitalism: A Love Story, $4.9 million (tie)
8. Fame (2009), $4.8 million
9. The Informant!, $3.8 million
10. Love Happens, $2.8 million
Source: