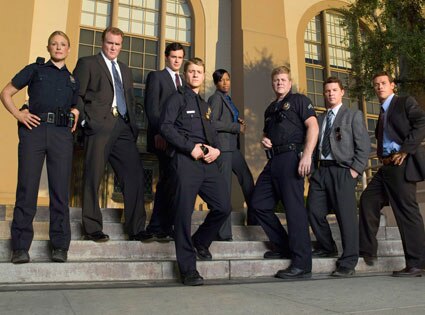 With only three episodes in the can, Southland has surprisingly done what no other new drama has achieved, which is hold on to its entire premiere audience past the pilot. A feat that is certainly difficult to achieve these days.
Those Southland cops have been hitting the streets hard, but that doesn't mean they don't have personal lives too. From their messed-up families to their abysmal love lives, these cops just can't catch a break.
The cast of Southland was on hand at the NBC Summer Press Day last week to tease new developments for their characters, along with their thoughts on a possible season two pickup.
With upfronts only a few weeks away, the cast of Southland have no doubt they'll be back for round two. Regina King tells us, "We are feeling positive. We're getting really great feedback. The reviews have been good, but it's not the reviews that make us feel confident. It's the fact that all of us have had at least nine or 10 instances each where we've been in the grocery store or the car wash and someone has been like, 'Oh my God, I love that show!'" Yes, we're definitely one of those culprits!
Here's what's on deck for the hard-hitting cops this season...
E!Online: Southland Cast Says Season Two Looking Positive
Photo courtesy of eonline.com