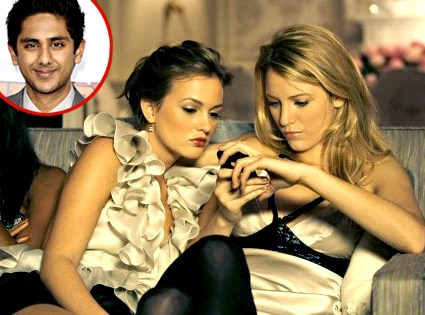 Adhir Kalyan is on CBS' Rules of Engagement starting tonight. In addition to that, he just wrapped a stint on FX's Nip/Tuck, he's a big TV star in his native South Africa thanks to the surprise success of Aliens in America in that country and he's in all the movie comedies now playing, including Fired Up and Paul Blart: Mall Cop, but he still has a dream to dream.
He wants to cozy up to the honeys on Gossip Girl.
"I think that's the long-term goal for me in my career: at some point to get onto Gossip Girl and share screen time with either Blake Lively or Leighton Meester, whomever they see fit."
For the record, CW execs: Adhir is totally fine with either one.
"No, really, I am flexible. A rock-climbing instructor just told me so."
Adhir (who is perhaps even more hilarious in real life than he is onscreen) starts a five-episode stint on Rules of Engagement tonight. Here's what he spilled to us about that story...
Spotted: Adhir Kalyan Dreaming of Gossip Girl
Photo courtesy of eonline.com