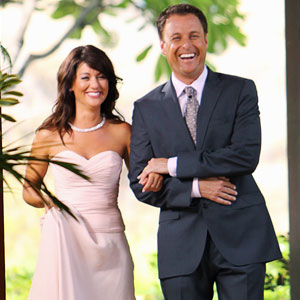 Original Bachelorette Trista Sutter is putting her reality-TV experience to use for E!Online's Watch With Kristin, blogging about Jillian Harris' quest for the perfect guy. Take it away, Trista...
--------------------------
Dun, dun, dun...It's finale recap time!
For 10 weeks, we've been watching Jillian's search for love. Yes, it's a television show that is out for ratings, but like millions of Americans, I continue to believe that two people can meet and fall in love under the harsh glare of reality-TV cameras.
Isn't that why we are all tuned in on Monday nights? The hope that love will win out, even in the most unusual and bizarre set of circumstances? Well, that's why I have my TiVo set! Am I biased? Sure. But when I look into the beautiful eyes of my children, I can say beyond a shadow of a doubt that love from a TV setup is most definitely possible. Will it be a reality for Jillian? Only time will tell. For now, though, I just want to see a happy ending to a crazy courtship.
Ed is the lucky first contestant to meet Jillian's family. Hugs all around for the good-looking man in pink, but her mom somehow decided it would be best to remain seated. (Huh?!) As I always try to give the benefit of the doubt, maybe she has an injured foot or back. Hmmm.
I don't know if it's the color of his shirt or the Hawaiian light shining through the windows, but Ed's eyes look gorgeous! His time with Jillian's mom was all about questions. Go figure. The apple obviously doesn't fall far from the tree, although at least when Jillian was asking, she took her questions and turned them into conversation. Note to future participants of the show: Practice your interview skills, as there is a good chance this line of questioning could become a trend (although I hope not)!
The best part of their date was Ed getting Jillian's father's blessing for a proposal and then dancing cheek-to-cheek with him in a grass skirt and coconut bra. Priceless.
The next day, Kiptyn got his shot at impressing his possible future in-laws. Before the big event, Jillian preps him and they enjoy a few smooches. Have I been able to get over what I feel to be a lack of kissing chemistry? Unfortunately, no. And it bums me out! I cannot help it, though. Whenever he reaches forward with his lips to plant one on our Bachelorette, the heebie-jeebies creep up, and I have to turn away. Sorry!
Lunch is served with a little side of gab, but it didn't get down to the nitty-gritty until it was time for Jillian's mom to steal Kiptyn away. Poor guy. She didn't even face him. She sat at the edge of the couch and looked over her shoulder to chat. I'm sure she's a very sweet person, but a body language expert would probably tell her a more welcoming position would be to face the person you are speaking with, and I'm sure Kiptyn would've agreed.
After her time with the boys, Jillian's family weighs in. For me, that part of the process was a major point of solidification. My family knows me better than just about anyone, and hearing their insight was invaluable. They gave me clarification that I wasn't just getting caught up in the moment (as I did with Alex Michel!) and creating feelings as a byproduct of television cameras. I was on the right path, and they gave me the confidence to believe that. I hope that Jillian gained that perspective as well.
Since my space here is limited, I'm going to hold off on last-chance date comments. That is, except to discuss Ed's choice of hairstyle and wardrobe! Not only was the 2-year-old-after-a-bath hairstyle back in action, but those snazzy green shorts made a repeat appearance. I know I'm just a stay-at-home mom now who is constantly in sweats and a ponytail, but I know fashion a faux pas when I see one, and handfuls of hair gel and those green shorts have got to go! His only saving grace is that at least he didn't wear them to meet Neil Lane!
Now for the good stuff: The "most emotional rose ceremony ever!"
The limo arrives, and you can sense all of America watching with you as the first guy steps out and into the fate of a broken heart. This time that guy is Kiptyn.
What I don't understand is why it is alluring to have Kiptyn walk down the aisle, hold her hands and profess his love, all before Jillian says a word. It would be just as compelling to watch if Jillian spoke her mind and gently let him off the hook. Instead, she waits until after the dagger makes its violent plunge, after he says, "I love you." Ouch! I'm sure contracts have changed, but I can't imagine that she wouldn't have the choice to be the first one to speak, in essence, saving Kiptyn the pain of admitting to being in love and then being turned toward the door...
Read More:
Trista Sutter on The Bachelorette Finale: Yay for Ed! Reid, Really?