If you want to be part of the new sexual revolution, you'd better tune in to the new Melrose Place Sept. 8 on The CW. At least that's the message E!Online took away from Wednesday's Q&A with executive producer Todd Slavkin.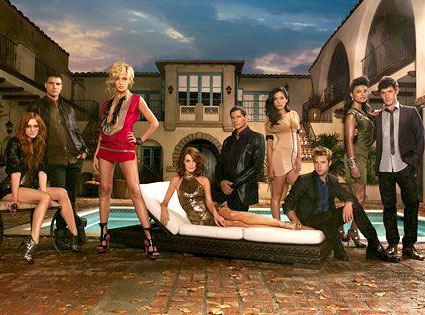 They got the dish on the cast's sexcapades, the original residents of the famous address and more...
Trysexuals: Melrose Place's resident sex kitten is unquestionably Ella (Harper's Island hottie Katie Cassidy), who will reportedly "try anything." Of her steamy sapphic scene in the first episode, Slavkin says, "Ella will be pursuing her sexuality in many different ways. We should kind of call her a bisexual...but that's not to say that's her identity."
The other twentysomething tenants (and some "wickedly sexy" guests) aren't wearing purity rings, either. "We feel that there is a current sexual revolution going on. Kind of post-AIDS--where the boundaries are off. Their parents have been shackled, and they want to explore." Kids!
Alumni Club: Slavkin also shared some more deets about the apartment complex's original sexy residents--including "star-crossed lovers" Thomas Calabro and Laura Leighton. "You thought Sydney died in the original show," said Slavkin. "But in episode three, we'll take you back to that night and how it came about that she lived. And something tells me she didn't do it alone." (Dun dun dun...)
Also returning are Daphne Zuniga (photographer Jo Reynolds) and Josie Bissett, Sydney's persecuted sis Jane. But insists Slavkin, "Jane will not be victimized anymore--she will not be paired with a man who is abusive to her." Well, that's refreshing. Jo, however, returns to Melrose after pursuing her dream of being a war photographer to confront the costs--"personally and professionally"--of her decision. What about the other original castmembers, like Heather Locklear and Grant Show? "The door is definitely open," teases Slavkin.
Who Will Collect the Rent? It's no secret that Melrose's current landlord is found floating in the pretty pool at the end of the first ep, so who will take her place? We'll find out in "a big reveal" in episode four, says Slavkin. "It's a familiar face!"
90210 Neighbors: Will other familiar faces include the young'uns from the nearby ZIP code? "We won't rule out [a 90210 crossover]," says the producer. "We have tremendous respect for that show. We think the two shows work really well together. We were thrilled when we heard they were pairing us up, like the old version. And a lot of their actors are terrific."
Which O.G. castmembers do you hope to see in Melrose 2.0? What do you think about a 90210 crossover? And which "familiar face" will take over as landlord? Let us know in the comments!
Source: