Even if you are sick to death of all things bloodsucker--or pretend to be--take our advice: Don't fight it, and tune in to The CW when The Vampire Diaries returns tomorrow night.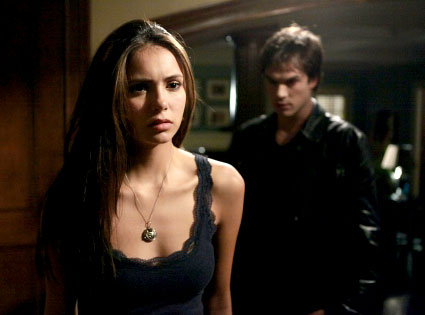 However loosely show runner Kevin Williamson plans to follow the original Vampire Diaries novels, this saga's storylines are dark. Forks is Fantasyland compared with all the evil going down in Mystic Falls.
And just forget Teams Jacob and Edward: The darkest thing in their pasts is...Wait, do those paragons of virtue have anything to hide? Wait until you learn the sinister secrets Stefan and Damon are harboring, and then you'll know what a wicked vamp looks like.
Are you ready to sink your teeth into what will become TV's most bizarre love triangle? Then click on the thumbnails in the article below to check out E!Online's special Vampire Diaries Spoiler Stills photo gallery, where you can sneak some peeks of upcoming episodes--and catch up on the haps in Mystic Falls. You know, just in case a vamp erased your memory.
E!Online - Take a Bite Out of Our Bloody Good Vampire Diaries Gallery
Vampire Diaries airs Thursdays at 8/7c on The CW.
Photo courtesy of eonline.com