Lipstick Jungle: Nico & Kirby
Who is that abbed man?? Lipstick Jungle kicked off in the winter of '08 featuring three powerful and sexy professional women - two of whom were married... that is until one power boss, Nico, meets sexy young photographer in the middle of a huge marital rift. And so the sexiness of Kirby and Nico began! Kirby (Robert Buckley) is certainly one of the most de-licious hotties on TV these days, and he reminded Niki what it felt like to be sexy and loved - all while giving us viewers a fantastic bit of eye candy to top off our woman-power drama.
Dirty Sexy Money: Jeremy Darling & Nola Lyons
Lucy Liu joined DSM this season as lawyer Nola Lyons, who we first met as a mysterious woman stalking (in a sexy way) Jeremy Darling. Once she seduced him, it was all legs and hotness... in the back of his limo, of course. (Remind you of another steamy couple on this list?) This red-hot romance continued even after Jeremy discovered she was prosecuting his mother for murder... another cheer for a hot and forbidden romance - with the extra twist of completely using each other and falling in love at the same time.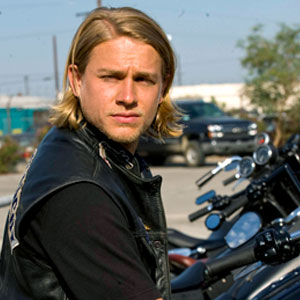 Sons of Anarchy: Jax & Tara
If you missed SOA this season, you won't quite get why this isn't just horrifying, but while it is, in the context of this show full of violence and shockers, Jax and Tara's hook-up only made the show (and them) hotter! This most shockingly disturbing and sexy moment took place after Tara was attacked by her ex-boyfriend stalker, called Jax (her ex-high school sweetheart) for help after she'd shot the guy once to get him away, then as this stalker ran his mouth to Jax, bang! Dead. A minor rush of panic and adrenaline then calm? Well, yes, but before that calm, Jax and Tara managed to keep that adrenaline going as they went at it on Tara's bed, mere feet from the dead guy bleeding all over her carpet.
90210: Ryan Matthews & Kimberly
The moment I saw the adorably hot Mr. Matthews as a teacher on the new 90210, I figured no matter how nice he was going to be, he was definitely going to have an inappropriate hot student hook-up. And... very close. Turns out he's too good of a guy to actually be slimy and hook-up with a student, but he's still a man who was attracted to a girl - luckily this girl, Kimberly, turned out to be an undercover cop acting as a student. And while it was "okay," this still ended up quite scandalous as Matthews had to be let go after getting caught picking up a student (who still needed to be undercover) from a party... drama, drama!
The Office: Dwight & Angela
Okay, so we don't really want to see more than a peek at naughtiness in the form of a bare shoulder or two here, but thankfully that's all we got and boy did it make for a awesome shocking comedic final finale moment for The Office's spring '08 finale! As the drama continues, it all comes down to the fact that nerd, beet farmer, or volunteer policeman, that Dwight has some major passion that cannot be restrained when it comes to his Monkey!