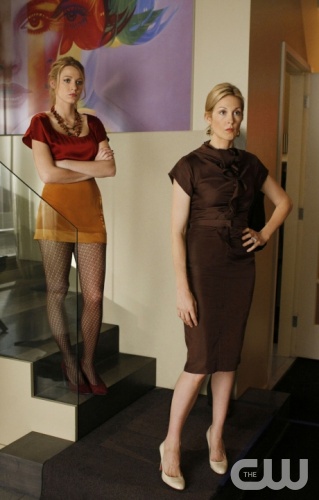 *'Magnificent Archibalds' Spoilers Included!*
This week on Gossip Girl, it was all about family for the Thanksgiving special, bringing in all sorts of family drama that didn't seem like it'd pan out that well until it turned out to be just what everybody needed to pull their lives back together.
But now that Blair, Nate, Serena, Jenny, Dan and the rest of our gang are all in better places with their families, it looks like it's time to turn our attention back to the relationships!
We had some focus on Serena and Aaron this week, but even though the point was to get them solid this week, it doesn't seem like that's meant to be much of anything more than a symbol of Serena and Dan moving on.
So I'm assuming Serena will move on again sometime soon, but most importantly, it looks like our other leading lady, Blair, will turn back to Chuck in the next episode, which may just be a tease for "Chair" fans, but could it be more? Could Chuck and Blair be a possibility again?
And the most interesting moment of this episode's wrap up went to Vanessa stealing Nate's letter telling Jenny how much he cared! With all Nate's family drama kind of worked out, and Jenny back home, could it mean we'll be seeing their relationship turn into something real?
What couples do you most hope to see develop with the romantic winter episodes to come?
Photo courtesy of cwtv.com