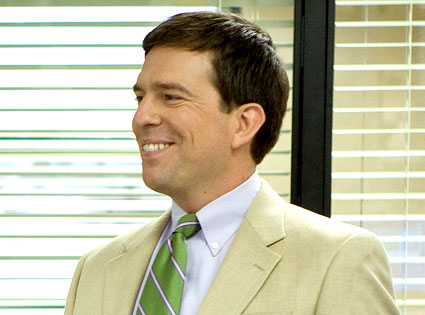 Face it, we all love Ed Helms.
And after tonight, we're guessing we'll love him even more. Aside from his frequent musical interludes on The Office, tonight's episode is called "Cafe Disco," and Ed tells us it will not disappoint.
"Let's just say I was sore after shooting some of these scenes," says Ed. The Office: Dance Party edition? Count us in!
For more goodies about tonight's disco extravaganza, Dwight-Andy bromances and all things Ed, read on--just prepare yourselves for some laughs along the way.
"Cafe Disco" Madness: After chatting with Ed, we might actually be more excited for tonight's episode than the finale. So what exactly does Cafe Disco mean? We'll let Ed explain: "Essentially Michael has another terrible idea on how to let off some steam in the office and the concept of a cafe disco emerges, which is a dancing situation that involves coffee. I'm not a good dancer, but I try really, really hard, and I'm not talking about Andy Bernard, I'm talking about Ed Helms."
100th Episode Season Finale: Think season three's "Beach Games," but with the whole company, not just the Scranton Branch. "It's the Dunder Mifflin picnic, so you have a lot of disparate elements converging. What the writers did is really fun and creative. It doesn't boil down to passive aggressive little picnic games with a vengeance. There's a lot more going on than that." Hmmm, like maybe the return of Holly Flax (Amy Ryan) and a Charles-Michael battle royale? We'll have to wait and see, but Idris Elba did tell us to expect a cliffhanger finale.
New Receptionist Love? After Angela crushed his heart, we are dying for Andy to love again. Ed thinks there might be some hope if the adorable new Dunder Mifflin employee, Erin (Ellie Kemper) sticks around. "I honestly don't know what her fate is, but Andy definitely seems to have a spark from that episode where Dwight comments on blood rushing into my penis. There might be something there." Fingers crossed!
More Anger Management? Not likely. This loveable, mild-mannered Andy is here to stay, and Ed couldn't be happier about it. "The anger was really fun in the beginning, but I just don't think that over time that sustains very well. Anger management worked [for Andy], and it still bubbles up here and there for a little comedic relief, but it doesn't define his character anymore--I hope! It's more fun to play someone who may be misguided and a little off but also very earnest."
Andy & His Banjo: While we all love Ed's performance, he pointed out to us that it doesn't make a ton of sense. "I'm happy to play my banjo any opportunity I can get, but there's no real rational explanation why Andy plays the banjo," explains Ed. "It's so fun and weird, but he's a Connecticut preppy guy. How did he pick up a banjo? It's one of Andy's many mysteries, not all of which I even understand."
Ed's Hangover: We couldn't chat with Ed without asking about his hilarious new movie, The Hangover, with sexy Bradley Cooper. "Coop is the best," he says. "We had such a ridiculous amount of fun that if any of that translates to the screen I think people are going to like it. I've seen it a few times, and I have liked it, and I'm proud of it, and I hope other people like it." The Hangover comes out June 5.
Are you as excited to tonight's Office as we are? What about the finale? Let us know what you're thinking below.