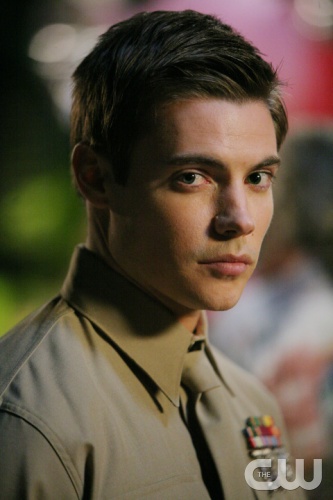 *"That Which We Destroy" Spoilers Included!*
90210 got very interesting this week! Not that it isn't always full of secrets (like the Mean Girls' hair), and packed with tasty drama, but probably because 90210 is taking a short holiday break, it brought up some extra juicy tidbits, and then left us with one big question I'm dying for the answer to:
Who is this prodigal son, Sean? It seemed as if he was just meant to create some drama between Harry and Naomi's mom Tracy, and also to fit nicely into the drama between Naomi and Annie.
But after we spent an episode with this charming Sean, it was revealed right at the end, after a whole hour of his Southern charm and easy guest appearance out of having to report for duty, that Sean has a whole lot more up his sleeves than military badges!
We saw Sean not jealous of all the sweet family hugs at the end of the episode, but instead call up some mystery person to tell him/her, in a non-Southern accent, that he's settling right on in there... so what does this mean??
Is he setting up to do something like rob the family? Is he looking for information on one of them? What could possibly be going on?? Unfortunately, we have to wait until December 6th to find out, but in the meantime, what are your predictions?
Photo courtesy of cwtv.com