From E!Online:
Yay! We knew you'd love Modern Family as much as we did (don't deny it--we saw those huge premiere ratings).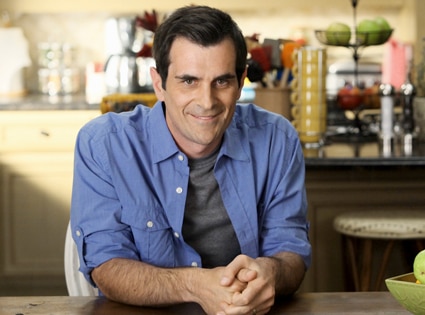 Ty Burrell, otherwise known as ultracool, hipster dad Phil on ABC's new hit, was nice enough to chat with us about what's coming up on his little branch of the family tree, including thievery and toy planes.
On top of incredible guest star scoop (Edward Norton and Elizabeth Banks--hello!), Ty couldn't help but brag about the incredible cast and crew on the show and provide more scoop than he probably should have--sorry, ABC.
Phil Is... "Phil is a dog who can talk. He's this well-intentioned guy, superearnest. His tail is always wagging when anyone comes home as if he thought they were never going to come back. And yet at the same time, that tail is knocking crap off the tables, you know?"
Like Father, Like Son-in-Law: As was apparent in the premiere, Ed O'Neill's Jay is more than a little disconnected from the rest of his clan. "Phil really wants to have a better relationship with Jay," explained Ty. What's coming up for the odd couple? "Jay likes to fly model airplanes, so Phil goes out to fly [them] with him, and Jay gets fed up with Phil yacking on, so that goes sour." We're predicting broken airplanes and possible bodily harm--we're just not sure who'll end up on the receiving end.
Wacky Storylines to Come: When we inquired about upcoming hijinks on Modern Family, Ty blurted out, "Phil accidentally steals a bicycle," then got sidetracked and never went back to the topic--so there's that little bit.
Bonding Time: If you haven't already realized, Phil is desperate to bond with the kiddos. The result? Hilarity, of course. "Claire (Julie Bowen) and I are [wondering] if any of our kids is the best of anything, so Phil tries to commit to making Luke the best at something." How does he go about this task? "You know the Malcolm Gladwell book Outliers? 10,000 hours to achieve excellence is one of the theories. Luke (Nolan Gould) starts with baseball; Phil is going to spend 10,000 hours with Luke playing baseball until he's a master. It lasts for, I think, less than an hour." Good news though, they discover Luke's true talent. "Luke is amazing at sales, so he helps Phil get close to a sale on a house, on accident. Of course, there's always chaos," promises Ty.
Family Reunion: "We're doing more with the whole family that's really fun, and it's something we're discovering as we go. We've got a couple episodes in which Shelley Long guest stars as Mitch and Cam's mom. We have an episode coming up where Jay has the family over to watch a football game," Ty told us. "I think both of those are solid episodes for intertwining the whole family. [There are] great little storylines for each individual family, but then you also have the option of having the entire family interact."
Fabulous Guests: Edward Norton will pop up on Modern Family in just a few months, and Ty filled in some of the blanks surrounding his appearance. After Claire screws up her anniversary gift, "she tries to make up for it by hiring his favorite band to play, and it only turns out to be the bass player and a band that Phil has no interest in. Edward's playing this guy who's basically playing the bass line for these songs that nobody recognizes." A far cry from American History X and Fight Club, wouldn't you say? "Elizabeth Banks is an incredibly funny actress with a very successful film career and she's doing the show. I hope that it opens the gates to lots of people coming in and having a blast for a couple of days. And Shelley is going to recur as this woman who is always on the verge of having this crazy emotional blowup. There's more there and it gives her and the writers options in the future."
We don't even need to ask if you'll be tuning in to Modern Family tonight at 9 p.m. on ABC--but we still will. What upcoming storyline are you most excited about? Sound off in the comments.
Source:
E!Online - Modern Family's Ty Burrell Talks Up the Hit New Series