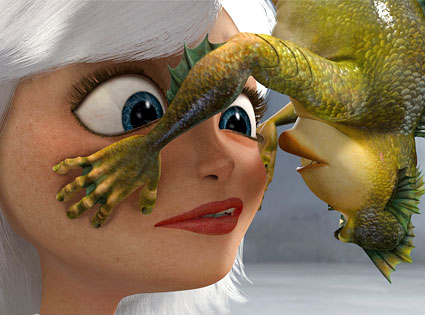 Who won Monsters vs Aliens? One day, the answer may be the 3D film.
The animated, comin'-at-ya comedy debuted with a weekend- and year-best $58.2 million Friday-Sunday gross, per studio estimates.
Elsewhere, The Haunting in Connecticut bowed with a stronger-than-expected $23 million, while wrestling star John Cena's latest bid to become Dwayne Johson, 12 Rounds ($5.3 million), was even weaker than his first.
Drilling down into the numbers:
* The most optimistic projections had Monsters vs. Aliens breaking $60 million, but Exhibitor Relations box-office analyst Jeff Bock thinks the movie nonetheless came in "right on target."
* A little backstory on Monsters vs. Aliens: When the movie went into production, Bock reminds, DreamWorks figured on it playing exclusively at higher-priced, 3D-equipped theaters. But with 3D conversion going slower than hoped, only about half of Monsters vs. Aliens' 4,104 theaters ended up playing the movie as Jeffrey Katzenberg intended. If the studio had gotten its 3D way, Bock figures the movie could have scored a $70-$80 million debut.
* "I think honestly it's an investment in the future of 3D," says Bock, bottom-lining the reputedly $175-million Monsters vs. Aliens. "Initially these films are going to cost more."
* In 3D or 2D, Monsters vs. Aliens goes down as the eighth-biggest animated opener of all-time, per Box Office Mojo stats, just behind Cars and just ahead of Toy Story 2.
* Watchmen ($2.8 million) broke $100 million overall, which would be a better thing for Warners if it hadn't cost $120-$150 million to produce, and/or didn't lack the legs of an animated movie.
* Last week's major openers, Knowing ($14.7 million), I Love You, Man ($12.6 million) and Duplicity ($7.6 million), all held well in their second weekends. I Love You, Man held best, with ticket sales down just 29 percent.
* Cena's 12 Rounds opened in seventh place, one spot below Johnson's three-week old Race to Witch Mountain ($5.6 million).
* Cena's first WWE-produced movie, 2006's The Marine, opened with $7.1 million.
* Amy Adams' hit indie comedy Sunshine Cleaning ($1.3 million) nearly broke into the Top 10 on the strength of only 167 theaters.
* Tyler Perry's Madea Goes to Jail ($1.1 million) exited the Top 10 after four weekends, and a Perry-best $89 million overall gross.
* Also exiting the Top 10 after spectacular-to-quietly impressive runs: Oscar-winner Slumdog Millionaire ($1.1 million; $139.3 million overall), and the 3D-animated Coraline ($300,871; $73.9 million overall).
* The new Christian-themed documentary The Cross didn't inspire Fireproof business, or crowds. It grossed a weak $300,000 at 221 theaters.
Here's a complete look at the weekend's top-grossing films based on Friday-Sunday estimates from Exhibitor Relations:
1. Monsters vs. Aliens, $58.2 million
2. The Haunting in Connecticut, $23 million
3. Knowing, $14.7 million
4. I Love You, Man, $12.6 million
5. Duplicity, $7.6 million
6. Race to Witch Mountain, $5.6 million
7. 12 Rounds, $5.3 million
8. Watchmen, $2.8 million
9. Taken, $2.7 million
10. The Last House on the Left, $2.6 million
Source: E!Online: A Monster-ish Weekend for Monsters vs. Aliens