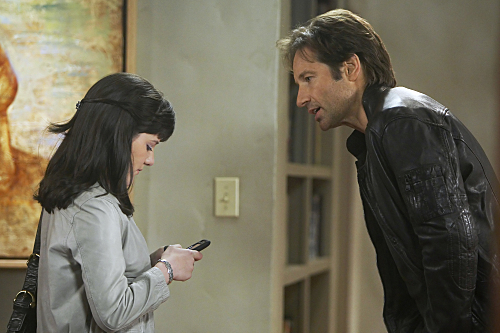 What an episode. This season is off to a fantastic start. This episode airs Sunday, October 4 so if you haven't watched it yet, do not read on. CONTAINS SPOILERS.
The opening dinner scene was fantastic. Grinning Charlie watching the "cougar smurf" get whisked away was hilarious. I'm surprised Charlie didn't get his head punched in when he rejected his "Nubian brother".
Ed Westwick was a welcome addition to this episode, in a much more interesting role than his standard Chuck Bass style from Gossip Girl. And it was about time that Hank's unrestrained comments had a consequence, with the suicide attempt of his student.
Charlie bursting in on Marcy and her lover was fantastic. The dialogue was flawless, as it often is in this show.
Charlie: A rape fantasy? That is just sick Marcy.
Marcy: I'm sick? After all the twisted depraved shit I've seen you do?
The situation that followed was only more hilarious, and only someone as messed up as Charlie Runkle could ever have decided it was a good idea to sneak in and "rape" Marcy in her sleep. This could be a new story arc that could get Charlie into a lot of trouble.
Kathleen Turner continues to make a positive addition to the show, as she continues to seduce Charlie, asking "let's see what kind of sodomy laws we can break".
The only downfall in the show's plot is the addition of Dean Koons and his wife. They are weak characters at best, and aren't really bringing anything to the show at this point. Some may disagree with me on this one, but it's just not working for me.
Becca. What a horrible kid. She is making it so hard for Hank. Not that he is the best dad. The final scene was sad, and I felt so sorry for Hank. As much as I dislike Karen, it looks like the family is falling apart without her.