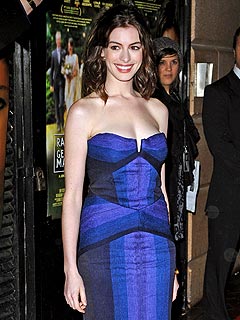 Anne Hathaway's best actress Golden Globe nomination for the drama Rachel Getting Married could not have come at a better time.
After a rocky year - marked by her breakup with ex-boyfriend Raffaello Follieri and his subsequent guilty plea on money laundering and fraud charges - Hathaway says the recognition is not just validation of her acting ability, it's helped her take stock of what's important in her life.
"This is the year that I realized how profoundly I am loved and supported," Hathaway, 26, tells PEOPLE. "And [I] realized that in order for a human being to be a successful human being, they must have deep profound wonderful committed relationships in their lives with their friends, with their family, with a lot of different people."
In fact, the actress's mother called to deliver the news about her Golden Globe nod - but didn't reach her in time.
"I was asleep and my mother actually called at the same moment as my publicist, and I answered my house phone because I don't get great cell reception at my house, and so he told me," she says.
"I got off the phone with him and called my parents. They were hopping around so happy, just so effusive and lovely. And I felt so bad, they were giving such great advice for how to handle it and I was half-asleep."