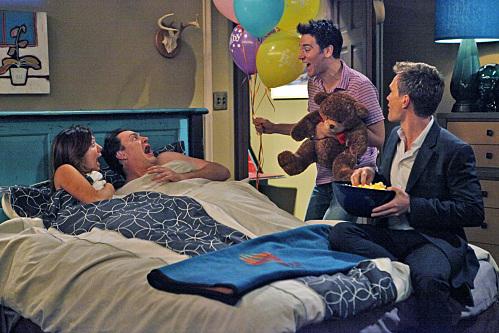 This has probably been our least favorite season of How I Met Your Mother to date. That said, despite an up-and-down year, most episodes are enjoyable on their own merit.
Last night's season finale, "Doppelgangers," certainly fit that description. It wasn't stellar, but also wasn't bad, with enough great lines and heartwarming moments to work.
The premise? Marshall and Lily struggle with whether to try for a baby, which they obviously left to chance - whether the universe presents them with Barney's doppelganger).
Also, Robin finally chooses to let relationships win over her career, only to end up heartbroken when she turns down the dream job in Chicago, for Don ... who takes the job.
Ted dyes his hair blonde, with predictably lame results, while Barney embarks on a quest to stop Robin, Ted and Lily, then pulls a 180 and masquerades as a doppelganger.