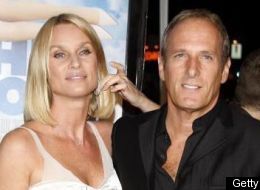 IT'S getting messy between "Desperate Housewives" star Nicollette Sheridan and her former fiance, pop crooner Michael Bolton.
In May, the lovebirds bought a mansion in LA's exclusive Hidden Hills area from Melissa Etheridge and her wife Tammy Lynn Michaels for $4.4 million - down from the asking price of $4.9 million.
Bolton, madly in love, left his East Coast home and moved in with his British-born sweetheart. On Aug. 24, he finally put his huge, 9,000 square foot Westport, Conn., home, known as Della Acqua, up for sale for a whopping $11 million.
Sadly for Bolton, just two days later, Sheridan "kicked him out," our source said.
And now, "he's basically homeless - and stuck with two houses. He and Nicollette split the Hidden Hills house, but she wants to stay there and not have him anywhere near it. She also doesn't particularly want to pay him [for] his half and thinks he should just give [the house] to her.