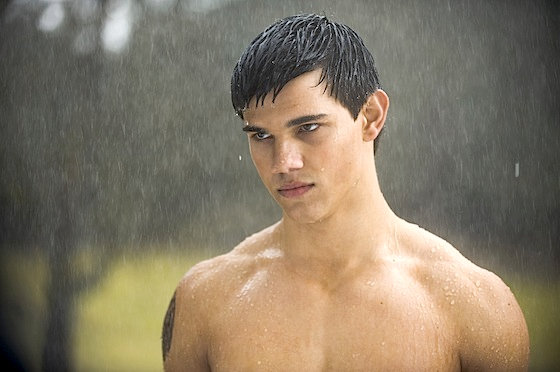 Taylor Lautner has talked about how hard it is to play Jacob Black in "The Twilight Saga's New Moon". To Access Hollywood, the 17-year-old actor shares what he has to undergo during the shooting for his part in the "Twilight" sequel, saying "I was shirtless, all I was wearing was shorts. We were in 35-degree (2 degrees Celsius) weather."
The co-star of Kristen Stewart in the vampire drama adds, "[They] poured rain on [us], which is like so iced cold! And the scene was like four minutes long and I'm just sitting there and you can't look cold." Worse, he recalls that he was the only one who has to stand shirtless in the cold. "I'm the only one, I'm just standing there like basically naked with everybody like bundled up in this ice cold weather! And I'm just like too too doo," he says.
Aside from addressing his nearly naked scene, Lautner also warns fans about this sequel. "There is like heart break and, oh it's...it's horrible, it just...'New Moon' will rip your heart to shreds," the Elliott Murtaugh of "Cheaper by the Dozen 2" promises, adding "So get ready!"
Set for November 20 U.S. release, "The Twilight Saga's New Moon" is a sequel to the hit "Twilight" movie. It will be directed by "The Golden Compass" helmer Chris Weitz using the script penned by "Twilight" screenwriter Melissa Rosenberg. Many of the original cast members, including Robert Pattinson, Jackson Rathbone and Nikki Reed, are set to reprise their roles once again with new members that consist of Dakota Fanning and Michael Sheen among others.