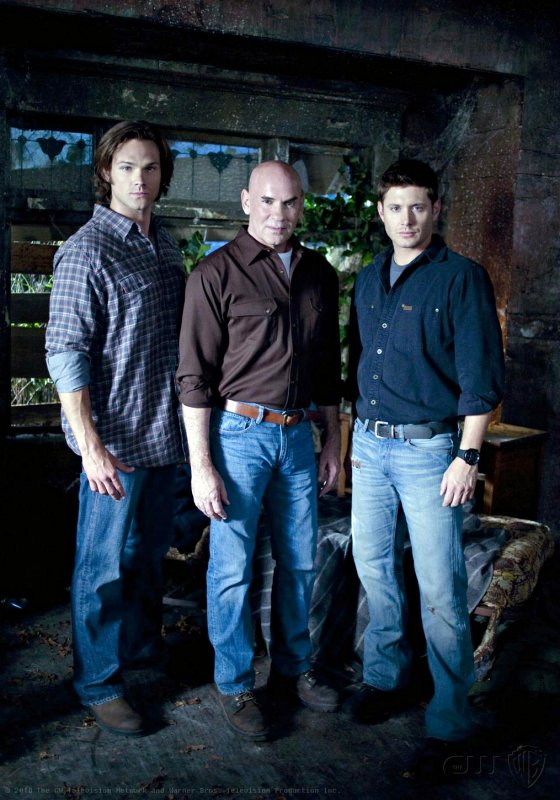 Tonight's season premiere of SUPERNATURAL, called Exile on Main St. started out exactly as we expected. Dean is living the life he promised Sam he would, but it's not sitting well with him. There's an underlying sadness and a longing for the good old days that he can't hide, no matter how many beers he drinks with the guys from work. So when he spots signs that something supernatural may be about, he starts looking. What he finds is Sam, back from hell and acting like nothing ever happened.
Sam isn't the only one back either, whatever pulled him up from hell also pulled Grandpa Campbell (Samuel) down from heaven. Somebody's got an agenda but no one seems to know who or what that is. Sam and Samuel (that's so gonna get confusing, LOL) have been hunting with some cousins and it turns out the family's been together for almost a year. They wanted to leave Dean to his life, but when a group of djinns go after Dean and his new family, Sam comes out of hiding to the rescue.
The supernatural world has been turned on its head, nocturnal beasts running around in daylight, creatures that no one recognizes wreaking havoc. Samuel thinks it's time Dean returns to the family business and once they work together to handle the djinn, Sam wants him back too. But Dean decides to stay with Lisa and Ben to protect them from the danger that he brought into their lives.
To Read More Click Here.