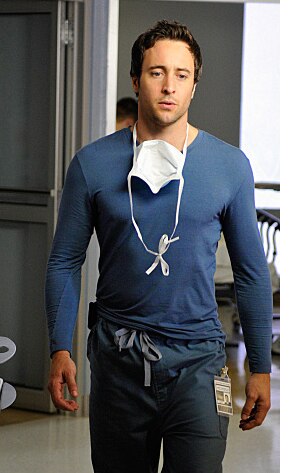 CBS SCHEDULE
Monday
8 p.m.: How I Met Your Mother
8:30 p.m.: Accidentally on Purpose
9 p.m.: Two and a Half Men
9:30 p.m.: The Big Bang Theory
10 p.m.: CSI: Miami
Note: Rules of Engagement will return at midseason.
Tuesday
8 p.m.: NCIS
9 p.m.: NCIS: Los Angeles
10 p.m.: The Good Wife
Wednesday
8 p.m.: The New Adventures of Old Christine
8:30 p.m.: Gary Unmarried
9 p.m.: Criminal Minds
10 p.m.: CSI: NY
Thursday
8 p.m.: Survivor: Samoa
9 p.m.: CSI
10 p.m.: The Mentalist
Friday
8 p.m.: Ghost Whisperer
9 p.m.: Medium
10 p.m.: Numb3rs
Sunday
7 p.m.: 60 Minutes
8 p.m.: The Amazing Race
9 p.m.: Three Rivers
10 p.m.: Cold Case
WHAT NEW SHOWS ARE COMING TO CBS?
Accidentally on Purpose stars Jenna Elfman as a young woman who gets knocked up and decides to live platonically with the baby-daddy (and the kid). Wackiness ensues. Costars Grant Show and Ashley Jensen
The Bridge, set to premiere at midseason, is about a leader of a police union who must balance the demands of his fellow cops and the city administration, all while continuing to fight crime. Stars Aaron Douglas (the Chief from Battlestar Galactica!)
The Good Wife should not be confused with last year's Canterbury's Law, even though both star Julianna Marguiles as a lawyer. This time around she plays a wronged woman who washes that man right out of her hair by getting the defense attorney job she always wanted when she was younger. Costars Chris Noth, Josh Charles, Christine Baranski and Matt Czuchry
Miami Trauma, also set to premiere at midseaon, is a Jerry Bruckheimer Productions show about, well, trauma surgeons at a hospital in Miami. Think Seattle Grace but sunnier and with more broken bones. Stars Jeremy Northam and Omar Gooding
NCIS: Los Angeles focuses on paramilitary investigators who hunt down especially dangerous criminals by using the latest whiz-bang technology. Stars LL Cool J, Chris O'Donnell and Louise Lombard
Three Rivers needs no explanation other than that it's the new Alex O'Loughlin medical drama. OK, here's a little more explanation: The three rivers are (maybe) a metaphor for the three streams of humanity that must converge to make a human organ transplant possible: the donors, the recipients and the doctors. Either that or it's set at Three Rivers Hospital...O'Loughlin plays the hotshot doc who leads the transplant team. Costars Julia Ormond and Justina Machado.
New reality shows on CBS include Arranged Marriage (exactly what it sounds like) and Undercover Boss, wherein the corporate king takes off his crown, shrugs the ermine robe from his shoulders, and walks among the common people for a day or two, learning a thing or two about the working class and their quaint, wholesome values...