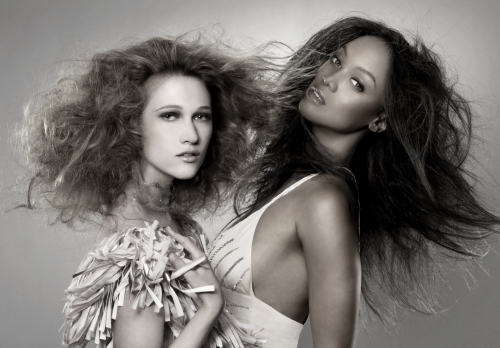 Let me start out with my own point of view..
I definitely think it was the right girl who won.
I just finish watching the finale show and I'm so happy :D..
I didn't thought Nicole would win, because of her akwardness, and because Laura is so much more american, as J alexander (with Nigel, I think) said; Laura appeals more to the american people and Nicole to the european..
And normally the judges from ANTM do not chuse the akward girl, must of the time they have chosen the girl who appeals most to the americans (with is okay, because it is america next topmodel)
I know, I'm putting a "=" sign between not akward and appealing to americains.. But my observations are that normally the girls who are akward, are the girls the judges can see as High fashion and appealing most to the europeans.
So I thought that Laura was going to win, eventhough I was cheering for Nicole.. So to be proven wrong, have made me very Happy..
Why Nicole?
I like this Season two finalist very much both.. As Tyra said, Laura is as beautifull outside as inside, and she really is. Which is good if you want a model spokeperson (as I guess Covergirl mostly wants)..
I love her personality, through the whole show, she was happy and positive, and not at all bitchy (If I remember correctly).. And she took some pretty picture..
But for me it was not Woaw! (Maybe because I'm european..heh) - Nicole's pictures were.
I like Nicole, her pictures has been amazing through the whole show. I can see her modeling in Europe, America, Highfashion ect. And she stands out, which I think is important.. (Laura is just another beauty face)
Because if you want to be a topmodel, it is not good enough only to be a topmodel in America (I know it is call Americas next topmodel, but I see it more as a topmodel who comes from America, maybe I see it wrong, but it's my point of view) If ANTM is a real topmodel she is also working in the european fashions shows - like Tyra, Gisele, Kate Mose.. And therefore as a real topmodel she has to appeal to both the american market and the european.. which I think Nicole does..
And I really like that they for once chose the akward girl.. I think Nicole is a good rolemodel for girls who feel akward..
Let me know what you think :)
Was it the right girl who won or should it had been Laura? and why do you think so.. ? :D
Peace out Jmeyer
(sorry my english, it's not my first language, I hope there is not to many mistakes)
:)