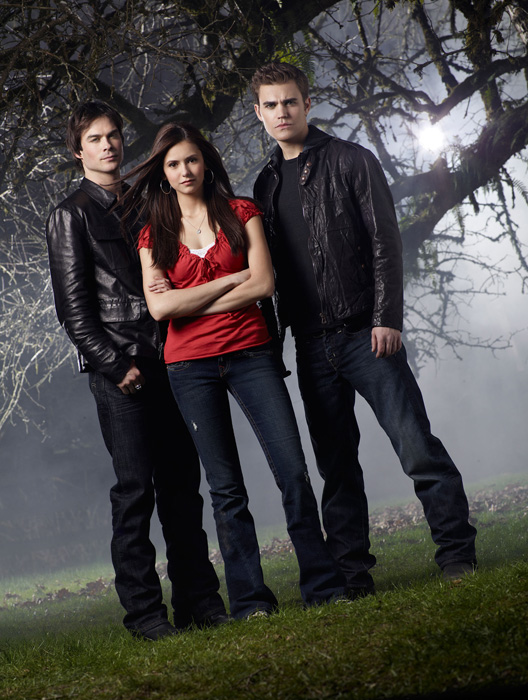 I began watching Vampire Diaries with no knowledge of the books it was born from, apart from seeing the show's trailer, I had no clue what it was about. I was pleasantly surprised by what I found.
The Pilot begins with a scene of a couple in their car as they enter some dense fog before crashing into a man believing they have either killed or seriously wounded him. The man however, is a vampire, and as all Twilight and True Blood fans know, it takes far more than a knock from a car to hurt a vampire, and it soon becomes clear that this vamp is playing the role of the deer caught in the headlights so he can get his latest feed.
The episode then continues telling the story of a girl named Elena (Nina Dobrev) and a young man named Stefan (Paul Wesley). At first I found Elena to be a bit two-dimensional, but she managed to find depth when we discovered that she had been in a car accident the year before in which both her parents were killed, leaving her and her younger brother Jeremy (Steven R. McQueen) to fend for themselves. Stefan on the other hand was mysterious from the start, and as the new kid at school all eyes were on him on the first day, but his eyes were only interested in Elena.
As the episode goes on the two's chemistry begins to show and when everything seems like just another teen drama we see Stefan's eyes turn black when he is around blood and we are quickly reminded that it is never just a teen drama when vampires are involved.
After another person is attacked following a mysterious rush of fog (in this case the unlucky lady is Vicki played by Kayla Ewell) Stefan realizes that another vampire is in town and returns home to find his brother Damon (Ian Somerhalder) waiting for him and eager to meet Elena. It is clear there is no brotherly love here and McQueen and Somerhalder work well together as two brothers who obviously don't share the same views.
I found the acting to be generally strong excluding a few minor weaknesses from Nina Dobrev, and although there did seem to be a few Twilight similarities, like Stefan staring at Elena during class and Stefan's entrance to school sporting sunglasses (which seemed strangely similar to those of another vampire by the name of Edward Cullen), a scene which may as well just been cut directly form the Twilight movie, the show still managed to bring some original ideas to the table including the idea of a love triangle involving two brothers who also happen to be vampires.
Would I say it was the most gripping Pilot episode I have ever seen? No. But will I still be looking forward to seeing what happens next week? Definitely.