For the 150th episode of Family Guy, Seth McFarlane decided to try something brave and do a one-scene episode with Brian and Stewie trapped in a bank vault with the cleverly titled, "Brian and Stewie."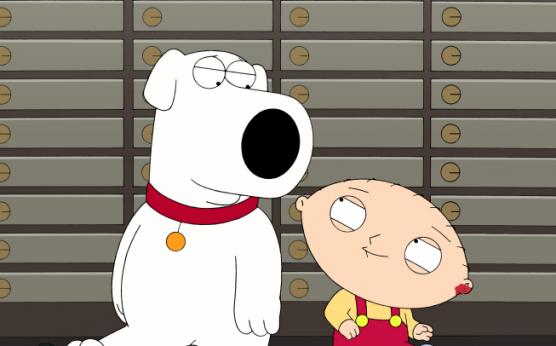 While the episode was an hour long, the second half was actually a series of musical numbers from past episodes as part of the "Fox Rocks" week. We're only going to consider the first half, which was basically an extended episode, for our 150th episode review.
Brian and Stewie are easily the strongest, most fleshed out characters of the Family Guy universe, so it was only fitting to use them if you're going to have a two man play in cartoon form. However, we can't help but think the 150th episode should have brought in the entire cast. Maybe they're saving that for the 200th episode.
As far as any episode goes, "Brian and Stewie" was an impressive episode for trying a unique angle with absolutely no cut-away gags. Sure the poop gag may have gone on a little too long, but overall the episode was loaded with laughs and heart. Definitely not the strongest Family Guy of the season, and definitely not fitting for a 150th episode to us.