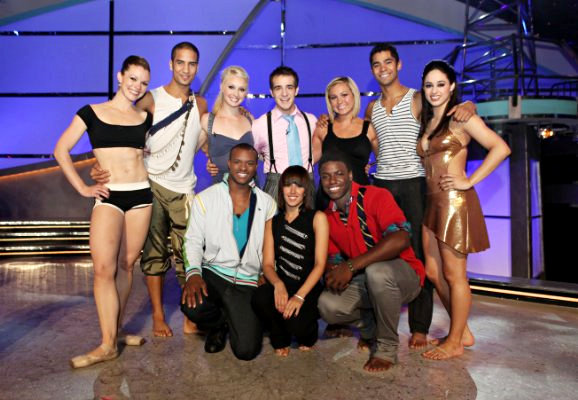 As the competition gets down to the final 10 of "So You Think You Can Dance" season 5, new rules are set, placing the judges out of the decision-making and giving America a chance to vote for individuals. Though the dancers now have to fight for American votes individually, they will still perform in couples, but there's a twist: each week they will get different partner. For this week, Kayla was paired with Evan, Ade with Janette, Jeanine with Jason, Kupono and Randi, and Brandon with Melissa.
Before all of the couples took the stage, the top five girls opened the show by performing a Bollywood routine choreographed by Nakul Dev Mahajan. Working as a group instead of trying to outshine one another, the girls stayed with the music the whole time and earned praises from judges. Nigel thought the group's performance was fantastic and said they were "five of the most beautiful girls working together", and Mary dubbed it "young, hip and fresh".
After that, the first couple, Kayla and Evan, performed a Viennese Waltz. Paired with Tony Meredith and Melanie Lapatin, the two worked out their height differential as Kayla danced barefoot and Evan had some men's heels on. During the dance, Evan managed to lift Kayla flawlessly and generated positive feedback from the judges. Brandon followed Kayla and Evan's performance with a solo number.
Then, Janette and Ade took on hip-hop. Dancing to Ciara's "Love Sex Magic", the two performed a funk by Napleon and Tabitha D'Umo. Nigel thought they both danced great, while Mary said "that was funky!" and a lot of fun. Debbie commented they made her want to go dance with them. After the second couple showed their dance, Randi performed solo followed by Kupono's.
To Read More Click Here.