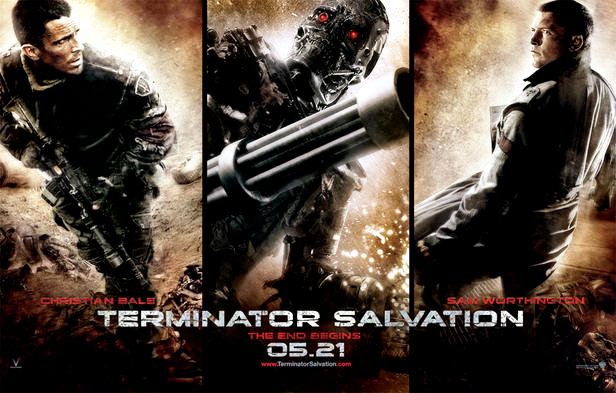 Fresh "Terminator Salvation" images, one-sheets and trailer description have been shared. While the fresh stills and posters posted by Yahoo! Movies hauled in also a look at Bryce Dallas Howard's Kate Connor, the new trailer has been shown during "Terminator Salvation" panel at WonderCon 2009 on Saturday, February 28, and written description of it has been provided.
To be officially debuted at 4 P.M. PT on Monday, March 2, the trailer begins with John Connor's explanation on how the machines may outnumber humans, but humans have a strength the machines don't. "We've been fighting a long time, we are outnumbered by machines. Humans have a strength that cannot be measured," he is heard as saying. "This is John Connor. If you're listening to this, then you're the Resistance."
The narration by Connor continues, exposing parts of the plot in which Skynet takes human prisoners to use them for "replicating human tissue". As the trailer goes on, it is revealed that Marcus Wright is a Terminator. Being held as prisoner by Connor, Marcus insists he is human. But, to his horror, Connor shows him the mechanical parts exposed on his torso. Brief glimpses of the Moto-terminators, the Harvester, the Hydrobots, the Hunter-Killer, and classic T1 robots then take over.
Before the trailer ends with a recreation of the flash teaser poster in which downtown L.A. is turned to become the face of a classic Terminator robot by explosions, footage of Connor yelling "If we stay the course, we're dead, we're all dead!" is displayed. His remark is answered by Wright as he claims, "I'm the only hope you have."
Starring Christian Bale and Sam Worthington as John Connor and Marcus Wright respectively, "Teminator Salvation" will see Moon Bloodgood, Common, Anton Yelchin, Bryce Dallas Howard and Helena Bonham Carter among the cast. Directed by McG, the Warner Bros. movie is slated to be released in the U.S. on May 21.