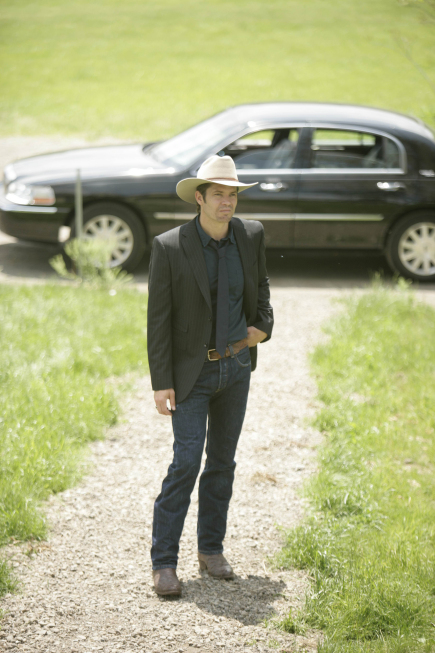 There are surely worse ways to be pigeonholed than playing tough, laconic lawmen, and Timothy Olyphant is carving himself a formidable niche in those confines. Having just been a sheriff in "The Crazies," the "Deadwood" alum enlivens every scene he's in -- and that's most of them -- as the modern-day U.S. marshal in "Justified," a wonderfully old-fashioned drama bearing the imprimatur of novelist Elmore Leonard as well as "Boomtown's" Graham Yost. Although at times overshadowed by Ian McShane's vulgar ferocity in his last cable series, Olyphant delivers an unabashed star turn in this one.
As introduced in a crackerjack opening sequence, Olyphant's Raylan Givens is one tough hombre who lives by a credo best articulated by the outlaw Ike Clanton back in "My Darling Clementine"-- namely, when you draw a gun, expect to kill somebody. That said, his frontier ways don't mesh particularly well with modern policing, quickly getting his ass booted from Miami back to his roots in Kentucky.
In the premiere, Givens squares off against a white supremacist ("The Shield's" Walton Goggins) with whom he shares a past, and runs into an old flame (Natalie Zea) who's moved on. Along the way, he bloodies noses, speaks in terse clips and anachronistically talks about drawing first, as if he's waiting for the aforementioned Clanton outside the OK Corral.
To Read More Click Here.