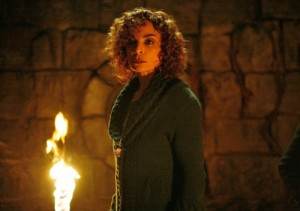 SWEET MOTHER OF GOD!!!!!!!! WHAT DID I JUST SEE?!?!?!!!?!
After running up and down the street, screaming my lungs out for 1) tonight's episode of The Vampire Diaries and 2) the fact that we got to wait till FREAKING MARCH 25th for some answers, I have calmed down and am now collecting my thoughts. I am soooo pissed at how we left Mystic Falls tonight, but that's what makes this show so damn GREAT!!!!! Grab your medical kit, vodka, and some Kleenex's, because it is about to go down!
The Set Up
Elena wakes to find herself guarded by Ben in the hotel room. After an escape attempt, Ben tries to compel Elena, who is wearing vervain. Anna comes in, relieving Ben from his amateurish duties, and slings Elena into the bathroom where she finds an unconscious Bonnie.
Meanwhile, Stefan begs for Damon's help, but after last night's betrayal, Damon doesn't give two cents about what happens to Elena. Stefan says that he is sorry that all of this is happening because of him, but Damon Elena makes it clear: He hopes Elena dies. WHAT?!!??!?!
Elena awakes Bonnie and fills her in on the vamps' plan of using Bonnie to open the tomb. Bonnie says she's not going out like a punk, but Ben bursts in and says Elena is leverage for Bonnie to do her job. Anna summons Elena and reveals that she went after her brother and that they are somewhat dating. Bitch.
To Read More Click Here