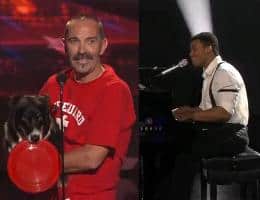 On no. Not again. A week after America's Got Talent chose Arcadian Broad over Thia Megia, it picked a very confused dog over a guy who can sing beautifully and play the piano. Judge Piers Morgan promised - nay, threatened - that "If Charles DeWayne does not go through tonight, it will be the biggest scandal in the history of America's Got Talent."
So when frisbee-catching dog act Tony Hoard & Rory met the singer come judges' choice time, we all know where that was going. After all, Sharon Osbourne and David Hasselhoff were all praises for the dog, despite the numerous (and obvious) flubs it had during the performance that mostly had to do with the Tony's throwing (which he admitted to be a little "off"). Surely, it had nothing to do with the fact that Tony Hoard and Rory's act opened with the all too familiar Baywatch montage plus the requisite theme blaring all throughout.
Alongside Tony and Rory, also moving on to America's Got Talent's semifinals are New York singing trio Voices of Glory, another singing trio Texas Tenors, disproportionate husband-and-wife dance team Paradizo Dance, and tap-dancing sisters Fab Five from Morgan, Utah.
Last night, Morgan buzzed early into Tony and Rory's performance right after the dog dropped its first frisbee, which wouldn't be the last. Regardless, Osbourne still gushed over the performance remarking the usual thing about America's Got Talent giving a chance to acts that would otherwise go unnoticed forever. Right.
The five joins Acrodunk, Drew Thomas Magic, Kevin Skinner, Grandma Lee and Arcadia Broad in the America's Got Talent semifinals, all of which advanced last week. In similar dog-over-man fashion, Thia Megia was also shown the door in deference to Arcadian Broad.
The episode also featured performances by the music group LMFAO and magicians Penn and Teller.
If You Missed This Episode Watch Here Online Now