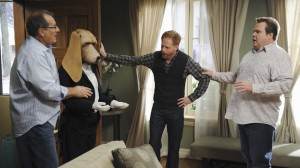 Last night's episode of Modern Family, "Not In My House," brought to the fore how much we love our partners, despite their annoying foibles. These foibles sometimes bring interesting visitors into our homes, whether they be Satanic statues, gardeners with cold feet or buxom farmer's daughters. Step away from the entrancing tumbling clothes in the dryer, and let's recap "Not In My House."
The episode opens with Phil on the phone with one of his best friends: Derek the pizza kid. His conversation is interrupted by Haley accusing Alex of reading her computer journal. Why would Alex do that? Perhaps because it "actually contains the details of a life!" Haley hissed. Claire, however, has discovered more objectionable computer use. It seems Luke was using Claire's computer to look at porn; specifically, a picture of a topless woman with enormous breasts, straddling a tractor. There is no need for Phil's explanation that the picture was sent to himby a coworker (not that he's naming names cough, Gil Thorpe, cough*) - his look to the camera spoke volumes. Claire wants to pull Luke from a sleepover, but Phil insists he'll take care of it. He doesn't want Luke to be confronted about porn by his mother, it could give the boy an "unhealthy attitude toward sex or agrobusiness." Claire agrees, but if Phil fails, she's just going to tell Luke, "whenever someone looks at porn, God kills a puppy."
Gloria is having her own dog problems. Jay, after a successful night at the casino, purchased a human-size dog butler statue named Barkley (yes, it is a huge dog, standing on two legs, dressed as a butler, with a name) in the casino store. With it placed by the front door, it scares Gloria every time she comes in. Secretly, she knows that it is El Diablo. Jay can't see what's wrong with Barkley. He's like a member of the family, and Jay has the pictures of Cameron posing with him to prove it. Gloria has had it with the dog butler, though, so she drags the statue upstairs.
To Read More Click Here