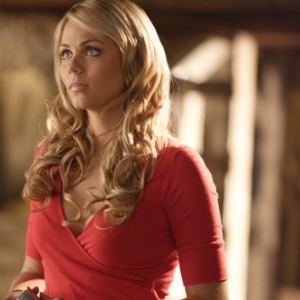 For a moment, there was a lot of talk about whether a Supergirl spin-off will be made from whatever happens to Smallville. Kara--uhh, Laura Vandervoort--did the role pretty well, and when her short role suddenly found itself settling for the whole of the most recent season, well, the questions are inevitable. And then she gets a role on the upcoming ABC series V--also a sci-fi inspired ditty--and her future is in question. The usual liners await. Will she, or won't she?
"I couldn't tell you," she simply said. "[The producers] called and asked me for what they thought would be the [series] finale, but now they're coming back for another year. I have an inkling that I'll be back for an episode next year. I don't think they can keep me hanging for too long."
She was happy, however, to have played the role for most of the last season. "I really wish I was still doing it, but it didn't work out storyline-wise," she said. "They had to focus more on Clark and Lois for the continuation of the legend."
But she did admit that a spin-off was actually in the works. The operative, as always, is the past tense. "They had that in mind when I got the role," she revealed. "I was supposed to be a guest star for a few [episodes], then it turned into the whole season, and there was talk of a spin-off. But it kind of fizzled out. They kind of went a different route with the network's shows, going more with the Gossip Girl type of show than the sci-fi."
So she's now appearing on yet another sci-fi series, V, a remake of the '80s miniseries, and serendipity found her there. "I've played an alien similar to the one in V before, and they wanted to know if I wanted to be part of it," she said. "I jumped and said, 'yeah!' It was just two days of shooting for me, because it's an introduction of my character on the pilot. If it goes to series, hopefully the character will evolve."
Well, it did go to series, showing up on ABC's midseason sked. But maybe it isn't goodbye to Smallville just yet.