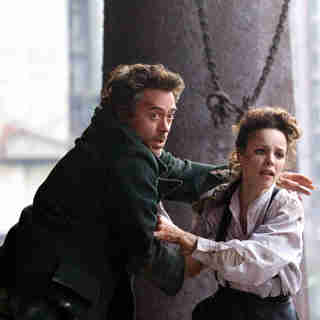 Warner Bros. have debuted the first trailer of "Sherlock Holmes". Injecting a taste of action adventure as well as showcasing an ample of humor to be seen in this Arthur Conan Doyle's novel adaptation, the video footage gives a slightly better idea at Guy Ritchie's new take on the legendary detective and his crime-solving story.
Opened with a capture of Mark Strong's villainous Lord Blackwood standing behind jail's bar, the promotional video shares what Robert Downey Jr.'s titular character faces this time around. In addition to providing glimpses at Rachel McAdams's Irene Adler, it also parades the bro-romance between Holmes and his sidekick Watson, which is played by Jude Law.
Based on Lionel Wigram's upcoming comic book, "Sherlock Holmes" is to center on the adventures of the famed 19th Century detective. Holmes will battle a new nemesis using his fighting skills which is as lethal as his legendary intellect, and unravel a deadly plot that could destroy the country. Originally expected to make its debut in U.S. theaters on November 20, it is now due for December 25 release.