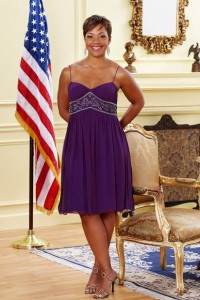 Two fat elephants occupied the room that was The Real Housewives of D.C. last night. No, neither one happened to be or involved the Salahis this time around. The culprits were actually the thorny topic of gay marriage and a wannabe Housewife who might have almost made the final cut of the D.C. cast, or was nowhere near what Bravo producers wanted. So in turn she acted a fool.
Let's begin with the first one, which is David Catania's gay marriage discussion with most of the cast. Paul Wharton was pissed at not only Stacie and Jason's stubbornly, orthodox concept of marriage, but at Mary's complete ignorance and nonchalant reaction to the cause as well. I will say this: the whole conversation was pretty tense, which I bet a lot of people would disagree with me on, but I'm really not talking about the nature of the conversation.
To Read More Click Here.