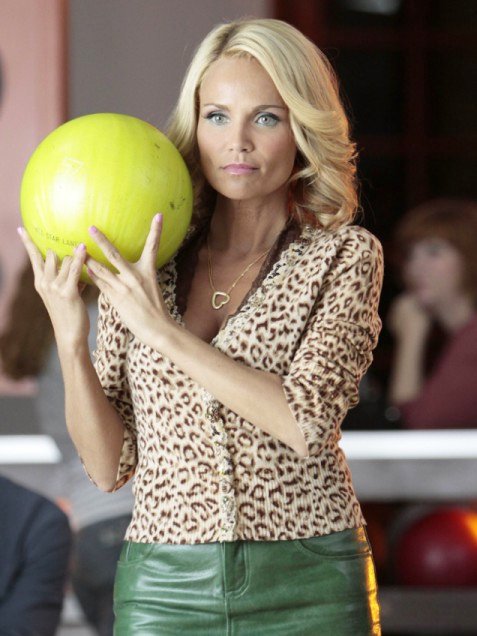 In this week's episode of Glee, Kurt's plan to set his father up with Finn's mother backfires when Finn and Kurt's dad get along better than Kurt expected. Elsewhere, Sue demands that the Cheerios lose weight for an upcoming magazine feature, which pushes Mercedes over the edge. Plus: April Rhodes (Kristin Chenoweth) returns for Round 2 with Will Schuester!
The episode opens on Sue Sylvester telling Mercedes that she isn't allowed to wear pants with her cheerios uniform anymore. Splits! Magazine is doing a feature on Sue, so Mercedes has to lose 10 pounds before the reporter arrives or else she's off the squad.
From weight to weather, Sue is just pushing everyone's buttons at McKinley High. Because it's a bit chilly outside, Sue has booked the auditorium for the entire week so the cheerios can practice indoors. However, that prevents the glee club for rehearsing as well. Will breaks the news to the glee club and says he'll try to find somewhere for them to practice.
As the glee clubbers are leaving, Kurt stops Finn and asks him for his help with decorating ideas. Little does Finn know, Kurt has an ulterior motive up his sleeve. (We'll come back to that.) Kurt later finds Mercedes in the cafeteria, but chides her for her lunch choice since she has to lose weight.
As Mercedes goes to ask Brittany and Santana how they are able to stay so skinny, we get this week's first Brittany-ism: "I'm pretty sure my cat has been reading my diary." The girls suggest the Sue Sylvester Master Cleanse to Mercedes, which is just like the regular one, but Sue adds ipecac and sometimes Brittany adds a spoonful of sand.
Back at Finn's house, his mother has been moving things out of the house, which really upsets Finn. As she tries to sell the recliner chair, Finn completely loses it. He ponders why his mother is trying to get rid of everything that has connections to his father, and why she's dressing nicer and has a new 'do. She reveals that she's dating Kurt's dad, and we now know what Kurt's ace was.
To Read More Click Here.