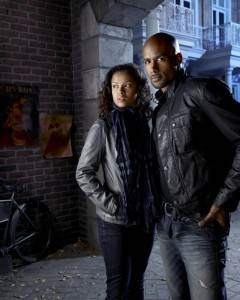 Undercovers ramped its game up this week, building upon the mistakes from the pilot and giving us more mystery as to the backgrounds of our two leads, who clearly don't know each other the way they think they do.
Pakistan
A trio of armed men escort a group of business men to a science lab in the middle of the desert. One of the men makes calls an unknown person about making someone do something for them. Once the men escort their employers to the lab, the lead man John opens fire on them, shocking one of his partners named Bruce. After Bruce demands to know why John didn't fill him in on killing people, John says that he knew Bruce wouldn't handle it. Clearly, there is something deeper than partners here. The third man, Hollis Krueger, leaves to cover the front, while Bruce and John (mostly John) take out the lab technicians before claiming their prize, Dr. Nassir. The woman refuses to cooperate until John shows her that they have her husband. Dr. Nassir's attitude quickly changes at this revelation...
To Read More Click Here.