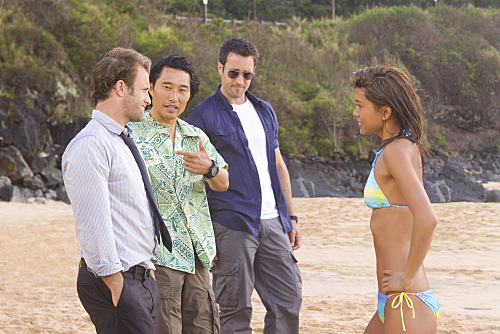 I was lucky enough to attend the Comic-Con 2010 panel for CBS's much anticipated new series, HAWAII FIVE-O and ever since then I've been eagerly awaiting its arrival on my tv screen this fall. Thanks to the good folks at CBS, fall came a few days early as I got to see an advanced copy of the pilot.
The first episode centers around the forming of an elite crime task force, led by Detective Steve McGarrett (played by Alex O'Laughlin). He's a decorated Naval officer-turned-cop who comes back to the Island after some time away following an incident involving someone very close to him. Wanting to catch those responsible for his loss, McGarrett decides to partner up with Detective Danny Danno Williams (played by Scott Caan), a man who doesn't like sand or beaches and is only in the sunny state because his ex-wife moved there, taking his daughter with her. Rounding out the team are Detective Chin Ho Kelly (played by Daniel Day Kim) and his freshly-graduated-from-the-police-academy niece, Kona Kalakaua (played by Grace Park).
To Read More Click Here.