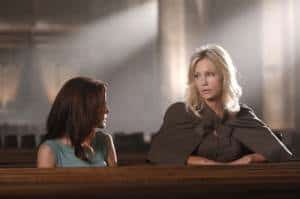 The CW has released promo photos and a synopsis for the (presumably) December 8th episode, which I believe will be the last episode before it goes on its holidays hiatus. It's also the last episode for a few cast members and it seems like the Sydney murder mystery will be wrapped up at that time.
Check out the photos below and also take a look at the promo and photos I posted for the December 1st episode.
MELROSE PLACEAMANDA REMEMBERS HER LAST VISIT WITH SYDNEY
Jonah (Michael Rady) and Riley (Jessica Lucas) decide to head to Las Vegas to elope but the day doesn't quite go as planned. Ella (Katie Cassidy) arranges a pitch meeting for Jonah with an important producer who is interested in buying his film. Meanwhile, Lauren (Stephanie Jacobsen) calls David (Shaun Sipos) after she gets in trouble with one of her male clients and Auggie (Colin Egglesfield) confesses his true feelings for Riley.
Also, Michael (Thomas Calabro) gives David information about Sydney' killer and Amanda bonds with Violet (Ashlee Simpson-Wentz) over Sydney, but of course Amanda has an ulterior motive in getting to know Violet.