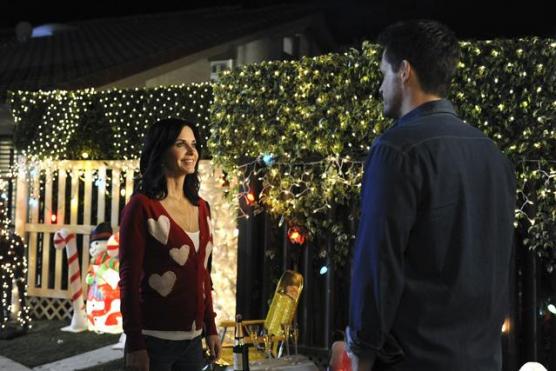 In one of the rarest Wednesday nights for us, Cougar Town actually had more laugh-out-loud moments before its first commercial break than the entire episode of Modern Family. So is that more of a compliment for the Courteney Cox-led vehicle or and insult to Modern Family?
Actually, kind of both, but you can read our Modern Family review for the latter. We're here to talk Cougar Town! In what could have been a sappy Valentine's Day episode, Cougar Town with all its usual heart only briefly touched on the holiday, giving Grayson and Jules a fun little "will they or won't they" moment.
"When a Kid Goes Bad" instead choose to actually give Andy a main role for once as he went to meet Smith Frank's dad, Roger (Barry Botwin) and try to woo him over as a potential client. It just so happened they he met Roger at the same time Laurie was there.
Andy, just like when he toned down his Latino and met Ellie's parents, did an amazing job with his first solo storyline. Whether it was his confidence dance, finally meeting honey toes, or just being the most honest, caring guy on the show, we love Andy.
To Read More Click Here