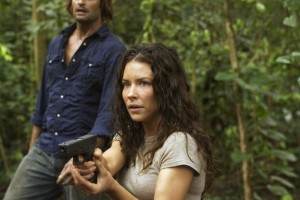 The most recent episode of LOST resulted in the long (seriously long) awaited reunion between Jin and Sun. It's good the two love birds are back together, but things are not looking good for Sawyer and his group of misfits who are trying to escape the island.
Meanwhile, Fake Locke has been abandoned and is left only with Jack. No telling what kind of trouble those two will get into together. Do you think that Jack will be the only (or last) true candidate for the island and will replace Jacob? Will they all leave? Or all stay? Who knows. We literally only have four more hours of LOST before it's done forever. And don't forget, the two hour finale will be airing on Sunday, May 23, not on Tuesday.
To Read More Click Here.