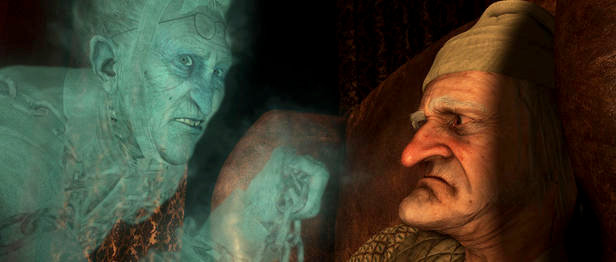 Walt Disney Pictures has finally released officially a sneak peek to its 3-D animation "A Christmas Carol (2009)" through a trailer. Premiered at Yahoo! Movies, the trailer takes a look at the three Christmas ghosts visiting Jim Carrey's Ebenezer Scrooge as well as the interaction between the old miser and the ghosts.
Set around the most joyous day of the year, this 3-D re-invention of Charles Dickens' timeless tale revolves around Ebeneezer Scrooge who must deal with Ghosts of Christmas Past, Present and Future as they try to bring kindness to his otherwise cold heart. In an eye-opening journey that reveals truths the old man is forced to open his heart to undo years of ill will before it's too late.
"A Christmas Carol" is brought into the big screen by Academy Award-winning filmmaker Robert Zemeckis and sees Jim Carrey in a multitude of roles from the main character Scrooge to the ghosts haunting Scrooge. Featuring also the likes of Gary Oldman, Bob Hoskins, Colin Firth and Robin Wright Penn, this film will be released in Disney Digital 3-D and IMAX 3-D on November 6.
The movie will have its world premiere celebrated on November 3 and taking place at London's Leicester Square. Carrey, Firth, Penn, Hoskins and filmmaker Zemeckis are expected to join the festivity that includes a history-making coordinated Christmas Lights Switch-On. The premiere event is in support of the Great Ormond Street Hospital for Children.
"In the spirit of Charles Dickens himself, we're bringing together three of London's richest holiday traditions in an unprecedented city-wide--or rather a worldwide--celebration," Walt Disney Studios chairman Dick Cook said of the premiere. "We're expecting record-breaking attendance at the festivities, which will launch the holiday season, showcase our movie and celebrate the writer who, with the publication of 'A Christmas Carol' in 1843, virtually reinvented Christmas."