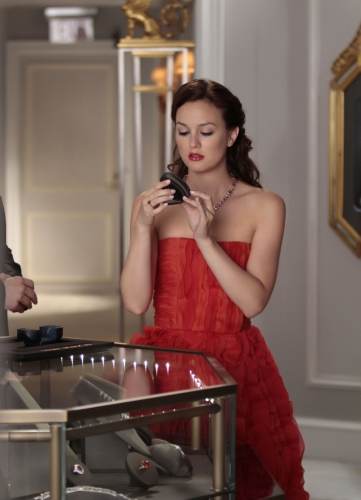 This week's episode has the gang facing some difficult choices: Will Serena choose Dan or Nate upon her return to New York, and will they choose her back? Will Blair keep playing princess with Louis, or will she forgive Chuck? And will Chuck return to New York and leave "Henry Prince" behind?
Two Princes
Blair tells Serena that Prince Louis is giving her another chance, and she isn't going to let anything cloud her judgment this time. As Blair is leaving to get ready for her date, Serena gets a call from her mother, who tells her about the body that washed up in Paris with Chuck's belongings. Serena offers to identify the body, and she confirms that it is not Chuck.
Chuck is in Paris maintaining his "Henry Prince" identity, and is off to his first day of work at the restaurant his girlfriend's uncle owns, when Blair's car almost runs him over. They make eye contact, but neither can muster up anything to say, so Blair quickly tells her driver to hurry off.
Back at the apartment, Serena tells Blair about the morgue and how Chuck might be in some sort of trouble. Blair acts unfazed, saying she just ran into him, and that she is sure he is fine and is just in Paris to keep tabs on her. Serena decides to go rogue and do some investigating herself, so she wanders the streets with a picture of Chuck, and - what a coincidence - happens upon the bar where he just finished his first day of work. The owner gives her his address, so she shows up at his door as he and his lady friend are packing for India (Paris just isn't big enough for both Chuck and Blair!). He shuts the door in her face when she calls him Chuck in front of his girlfriend, but assuming she would linger, meets her outside later.
To Read More Click Here.