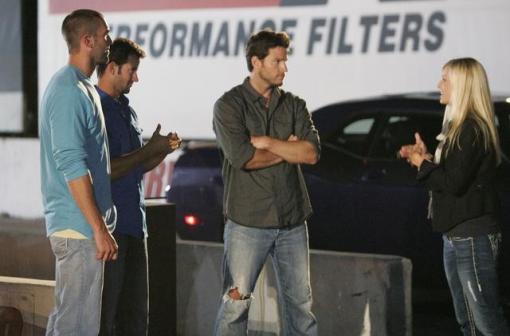 We've said after each of the first two weeks of Bachelor Pad's run that it reminds us of a ripoff Big Brother with one exception - no characters we really care about watching.
Last night showed, if nothing else, that some of the Pad participants can bring the drama - and not just because they will "kiss every guy in the house for like twenty bucks."
From the onset, Gia was upset that Nikki backed out of the plan to oust Kiptyn, while Elizabeth conspired to boot Gia next, and the Meathead Alliance plotted its next move.
Amazingly, for all the nasty competitions on Big Brother, this one took the cake - the guys and girls had to vote, blindfolded, on the best kisser, having sampled ALL of them.
If that sounds appealing, you must not have watched. Seven girls mauling your face (sorry, six ... Ashley has too much respect for her students) in three minutes. Bleggh.
David and Peyton were the winners - in large part because they worked their respective magic and did not try to straight devour the blindfoldees. Amazing how that works.
To Read More Click Here.