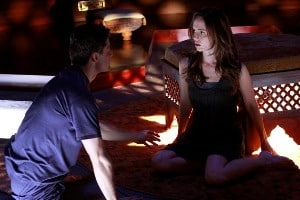 I think the fact that Dollhouse's all-too-fabled episode, "Epitaph One", is not going to air, and is instead going to be with the first season's DVD.
Not that I won't be able to buy the DVD. I haven't yet, but that episode's got a lot of implications, obviously. Suddenly, you have an idea of what will happen in the future, to Echo and the rest of the Actives and whoever else is involved, and with an end result in mind, you'll start wondering about what exactly will happen so they get there--or whether they can still change that future.
So I'll probably wait a bit before I can connect the events of "Epitaph One" with those of the second season premiere. It's a given, but what about those who won't be able to watch that episode? They'll start clueless again?
Well, not exactly. Dollhouse creator Joss Whedon promised that the second season premiere, which airs September 25, will revisit the future "Epitaph One" is tossing in. "[But] the actual bulk of the show takes place three months after the events of [season finale] 'Omega'," he told Zap2it. "But we will be visiting that future every now and then."
But it wouldn't make a difference, actually. Whedon says he'll still be reintroducing the show to new viewers when the second season comes in. "We have so many regulars and relationships and so much mythology already around the central premise of 'this woman can be anyone' that this episode has a lot of catching up for any viewer whether or not 'Epitaph' was a part of it," he said.
"[We want to] build Echo up from nothing ... and really give her a sense of momentum and purpose that will ground the show in a way it couldn't be last year," he added.
But I'll still probably buy the DVD because, you know, it makes for a nice addition to the shelf in my living room. And the slow burn continues, and maybe Dollhouse won't be as troubled as it was last year.